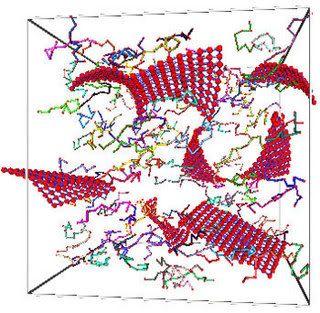 Environmentally conscious shoppers may soon be able to cross non-recyclable packaging off their list as European researchers work towards reducing the carbon emissions caused by our throwaway society - with modified natural fibre based, intelligent packaging. Some of the plastics and materials they are developing combine rather exotic materials: a molecule found in the exoskeletons of crabs and crustaceans, clay-particles engineered on a nano-scale, DNA footprints to identify materials or photosensitive nano-particles that form organic screens to be used for communication capabilities.
Being the biggest project of its kind, the EU's
'SustainPack'
research effort is a four year research programme with a budget of €36/US$49.2 million aimed at developing radically sustainable packaging. The SustainPack project is comprised of a consortium of 35 partners from 13 EU memberstates, representing packaging research associations, academia and industry. Its purpose is to establish fibre-based packaging as the dominant player in the packaging area within a decade. It will achieve this by applying nanotechnology and biotechnology solutions to deliver lean and added value fibre-based packaging options for users and consumers.
Burying everyday items such as plastic drinks bottles, carrier bags and other overwrapped goodies in the ground may seem innocent enough, but each plastic bottle will take 450 years to degrade. A country like the UK landfills around 28 million tons of waste every year and this amount is destined to double over the next twenty years if we don't change our ways. In fact the amount of CO2 gases emitted during the manufacture of packaging waste in 2006 was estimated to be about the same as the amount produced by seven million petrol cars.
This environmental burden is no longer acceptable. With SustainPack, the EU wants to move away from the petro-based waste economy towards a bright green and intelligen bioeconomy, by focusing research on six areas: market needs and sustainability research, materials and degradable coatings development to enhance product uses, and 3D and interactive packaging in an intelligent communication environment:
energy :: sustainability :: climate change :: natural fibers :: cellulose :: biomass :: bioplastics :: biopolymers :: nanotechnology :: biotechnology :: packaging ::

The demands on packaging are continually changing, influenced by a variety of factors ranging from increases in functionality, to improvements in economics and meeting environmental and legislative measures. In a changing and expanding market-place, the potential for fibre based packaging is massive, but in order to capture this potential to its full fibre based packaging materials need to perform better with less fibres have built in barrier properties, be active and interactive, and provide new structural design opportunities.

Let us have a look at one of the projects under SustainPack, a potentially worldchanging effort. Materials experts at Sheffield Hallam University are developing nano-clay particles (image,

click to enlarge

) that will act as additives to increase the strength of the natural fibre based packaging.

Professor Chris Breen from the university's Materials and Engineering Research Institute explains:

"The typical consumer in Europe uses ten to twenty pieces of packaging everyday, so where the waste packaging ends up should be at the forefront of our minds. It is expected that Britain will run out of approved space for landfill sites in five to ten years time and as the Government struggles to reduce CO2 emissions, renewable packaging stands out as an attractive proposition.

"Developing sustainable packaging that can compete effectively with packaging derived from petrochemical-based polymers is extremely challenging. Sustainpack is addressing this challenge by creating a European research community focused on sustainable packaging which will pressure retailers to accept natural packaging as the way forward.

"Sheffield Hallam's expertise is being used to develop nanoclay particles which will significantly improve the barrier properties and mechanical strength of the new biopolymer films and coatings. One of the more unusual modifiers that we are using to make the nanoclays more compatible with, and disperse throughout the biopolymer films, to effectively repel water molecules is a molecule called chitosan which is derived from the shells of crustaceans, such as crabs and lobsters."

Companies such as Sainsbury's and Smurfit-Kappa, one of Europe's largest manufacturers of packaging products, are already actively participating in the project. Sheffield Hallam is now collaborating with SustainPack's partners to develop sample packages which can be used to demonstrate the capabilities of the new materials.



Image:

3D molecular structure of an exfoliated nanoclay-polymer composite.

More information:
Sheffield Hallam University: Europe to 'pack in' more fibre - April 16, 2007.

SustainPack project page.

EU Commission DG of Research: Nanosciences, Nanotechnologies, Materials and New Production Techniques, website.