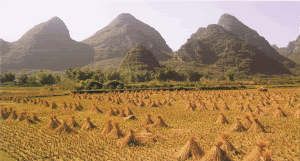 China is building a new coal-fired power plant each week. The country knows that, at this pace, it will become the largest emitter of greenhouse gases, surpassing the US earlier than expected (by 2010-2015). For this reason, the People's Republic tries to diversify away from fossil fuels and into renewables, even though energy demand is so high that the green initiatives do not seem to make much difference yet. Eighty percent of the country's electricity is currently generated from coal. Demand for the climate destructive fuel increases by around 4.2% per annum.
One of China's strategies to reduce greenhouse gas emissions from the electricity and industrial sectors is to utilize the country's massive stream of agricultural and forestry residues as a source of renewable and sustainable biomass for energy. As part of a comprehensive bioenergy policy outlined under the '11th Five-year Period', the objective is to build up a biomass power generation capacity of 5.5 GW. Agricultural residues are either to be co-fired with coal (see earlier post on an
EU-China biomass co-firing project
), or used as a single energy source in dedicated biomass power plants.
As forecast by China's (bio)energy research centers, the country's coal demand is set to total over 2.5 billion tons of standard coal this year. Some estimate that if all the waste biomass resources generated in China were to be used efficiently, they can replace an equivalent of 100 million tons of standard coal (
earlier post
), whereas dedicated energy crops can replace another 400 million tons per annum. In short, around 20 percent of China's current energy consumption could be met with biomass. But to tap into this potential, several hurdles must be taken: collecting, storing and distributing the biomass streams from fields to power plants is a major
logistical challenge
, adapting coal-fired plants or building new dedicated biomass plants will require huge investments, and policies and financing mechanisms must be crafted.
However, utilising waste biomass streams also has major advantages: resources can be used locally and power plants can be built close to supply zones; the sector provides additional incomes to farmers who supply the biomass. Each rural household is now seen as an energy producer. This perspective is part of China's push to build what it calls a 'new socialist countryside', based on bioenergy. Finally, establishing a biomass power generation capacity today may be the first step towards a radical carbon negative energy system in the future (so-called
Bio-energy with Carbon Storage
).
China has meanwhile brought the first series of dedicated biomass plants online. We focus only on projects implemented by the
National Bio Energy company
, a subsidiary of the State Grid Corporation of China, which has so far connected five plants to the national grid, with another 9 under construction (
interactive map
). A total of 22 of the company's direct-biomass fired power plants have been approved by the
National Development and Reform Commission (in total, more than 30 have been approved).
Implementation occurs swiftly, with the average time to get the projects up and running being under 8 months. Some of the plants have been registered as
Clean Development Mechanism projects
, which allow producers from industrialised countries to receive certified emission reductions by investing in such projects. The capacity of the biomass plants ranges between 25 and 50MW.
We focus in on some of the basics of these projects, by looking at the parameters of some plants:
The Shanxian biomass power plant (Shandong Province):
fuel: 100% biomass -

160,000 to 200,000 tons of

agricultural residues (straw and stalks) per year, sourced from local farming communities
capacity: 1 x 25MW generator,

annual electricity output is around 137Gwh

coal replacement: the plant saves around 70,000 tons of standard coal per year
CO2 emission reductions: 10 million tons per year
biomass logistics: eight straw collecting, storing and buying stations have been set up to secure waste biomass resources from farmers

incomes for farmers: the project brings about 50 million yuan (€4.8/US$6.5 million) per year to the rural households who supply the biomass
direct jobs generated: 500
The other four biomass plants have a similar set of mechanisms to secure biomass supplies, and generate an equal amount of jobs and incomes to farmers:
bioenergy :: biofuels :: energy :: sustainability :: climate change :: fossil fuels :: coal :: renewables :: rural development ::biomass :: China ::
Kenli biomass power plant (Shandong Province)
total investment: 270 million yuan
fuel: chopped cotton straw and coppice
capacity: one single-stage extraction condensing turbine power generator with an installed capacity of 1×25MW, together with one high-temperature and high-pressure special biomass boiler with capacity of 130T/h
Cheng'an biomass power plant
fuel: predominantly chopped cotton straw
capacity: 1×24MW single stage extraction steam turbine generator, which is equipped with a 130t/h water-cooled vibrating grate, high-temperature & high-pressure biomass boiler.
implementation time: work started on May 28, 2006 and was connected to the grid in January 2007.

Chifeng biomass power plant (Inner Mongolia Autonomous Region)

total investment: 490 million yuan
co-generation: the plant will deliver both heat and power
fuel: 327,000 tons of agricultural and forestry waste per annum
capacity: two 25MW extraction condensing heat supply units associated with two 130t/h vibrating grate high-temperature high-pressure boilers.

Writing for China Economic Net, Sun Benyao outlines the advantages and the context behind these projects.

It can be seen from such a case that biomass energy plays a vital role in improving China's sustainable development capacity. Industrial and agricultural wastes including straws and stalks are main raw materials for biomass power generation, in which biomass energy is made use of to act as a source of energy. As the society and the economy develop day by day, biomass power plant as a new pattern of power generation has presented its prominent advantages especially in China.

Firstly, a new source of energy will be provided for the sustainable development of China. Currently, fossil energy resources account for 90 percent of the annual total energy consumption all over the world. With the current level of energy consumption, major fossil energy resources can be hardly left by the mid-22nd Century. But biomass energy has become the most widely used renewable energy for the moment due to such characteristics as a wide distribution as a kind of energy resource, having little influence on the environment, and that it can be utilized in a sustainable manner.

Secondly, the environment can be protected and the greenhouse effect can be eased. Large-scale exploitation and use of fossil fuels have caused serious environmental problems such as ecological damage etc. and are posing direct threats to the sustainable development of the humankind, but biomass power generation is attracting attention in the world as it discharges no carbon dioxide. Considering the properties of biomass fuels per se like a low ash content and a low sulfur content and the zero discharge mechanism in the growth process and the combustion process of biomass, biomass power generation is an effective measure to cool the earth.

Thirdly, it could be conducive to the establishment of a resource-saving society and what the country calls a 'circular economy' (zero waste; the waste streams from one sector become inputs for other industrial processes). China is abundant in biomass energy resources. The annual output of crop straws and stalks alone is about 700 million tons. Except for the small part of crop straws and stalks used for cooking and heating purposes in rural areas, all the remaining crop straws and stalks can be provided as fuel for biomass power generation. It is understood that the total biomass energy resources that can be exploited in the near future in China may be equivalent to about 500 million tons of standard coal, it may be equivalent to 10 million tons of standard coal at a specified future date. If considering the situation comprehensively and planting various kinds of energy forest on barren hills and barren slopes, the biomass energy resources may be equivalent to over 1.5 billion tons of standard coal in the long-term.

Fourthly, the construction of a 'new socialist countryside' can be accelerated and promoted. One of the important measures for the construction of a new socialist countryside is to make efforts to develop a circular agriculture. As the economic revenues of farmers increase in China, the proportion of straws and stalks used as a kind of energy resource in daily life is gradually decreasing. The abandoned straws and stalks have become a major source of environmental pollution in rural areas that will affect the view of villages seriously. Biomass power generation does not only provide a new source of energy for the construction in China and protect the environment but also turns straws and stalks from wastes into a treasure, thus bringing forth an increment to farmers' incomes and creating job opportunities for them.

For the biomass power generation industry, the Chinese government has given its great supports. It has been pointed out clearly in the No. 1 Document of the CPC Central Committee issued this year that the biomass industry, which takes biomass energy resources, bio-based products and biomass raw materials as the main contents, is a sunrise industry expanding the functions of the agriculture and promoting the highly effective use of resources. In the 11th Five-Year Period Plan, it is also made clear an objective to build up an installation capacity of 5.5 million kilowatt for the development of biomass power generation. It is noteworthy that in case of a new industry, interdisciplinary, cross-sectional and cross-industry combination and cooperation and the reconciliation of contradictions between demands for fuels and the behind-lagging production patterns in rural areas are both problems to be urgently solved. With all those difficulties overcome, biomass power generation will play a more important role in the modernization construction.