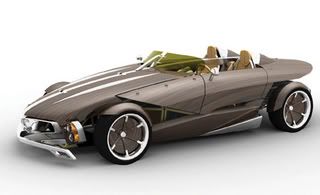 Earlier we reported that advances in biotech, materials sciences and biofuels may soon make it possible to manufacture cars entirely made out of bio-based products: durable bioplastic fuel lines, car seat foams, body panels, structural components, interior parts and tires have already been developed that consist almost exclusively of bio-degradable, renewable, plant-based materials and no longer of petroleum (
earlier post
, and
here
,
here
and
here
). Fill such a car up with biofuels and bio-lubricants (
earlier post
), and we have a genuinely environmentally friendly vehicle.
Even though the vision is ambitious, Ohio State University's
Ohio Agricultural Research and Development
(OARDC) and the
University of Akron's Goodyear Polymer Center
are
teaming up
to explore a potential research partnership for the development of such an "Agri-Car".
The concept was initially conceived by Seeds of Opportunity, a Wooster-area group of business and other community leaders concerned about economic development prospects for the region. "Agriculture and polymers represent Ohio's two largest business sectors," OARDC Director Steve Slack said. "It makes sense for us to explore initiatives that leverage these strengths. Agri-Car is an exciting concept that has this capability." Other groups that have expressed interest in exploring this concept are Ohio State's
Center for Automotive Research
(CAR),
Tsinghua University
in Beijing, and China's
Geely Automotive Group
.
The idea is to create a diverse working group to leverage resources, knowledge and ongoing research projects that could help assemble the pieces required to turn the Agri-Car concept into a circulating reality. Such interaction, Slack said, is crucial to see beyond research and industry boundaries and realize that agriculture, biotechnology, polymers and the automotive world indeed have much to offer to each other.
The concept would broadly have the following characteristics:
a mid-size, lighter, safe, efficient, inexpensive car that would be 90 percent biodegradable
be approximately 1,000 pounds lighter that a vehicle its size
a fuel efficiency of at least 70-80 mpg
Plant-based components would include:
malleable carbon or bio-polymer for the body
bio-polymers, advanced sensors and displays for the dash
new carbon materials for the drive train
polymers and fabrics derived from renewable feedstocks for the interior and trim
alternative natural sources of rubber for the tires
crops and other biomass for lubricants and fuel, including ethanol and methane
OARDC currently has research programs and projects that could provide some of the feedstocks and energy sources the Agri-Car would need. Among them:
biomass :: bioenergy :: biofuels :: energy :: sustainability :: ethanol :: biodiesel :: biolubricants :: bioplastics :: biopolymers :: biodegradable :: bioeconomy ::

—The Ohio BioProducts Innovation Center (OBIC): Established through an $11.5 million Third Frontier award, OBIC is linking agricultural technologies with chemical-conversion and advanced-materials technologies to create specialty industrial compounds like plastics, paints, lubricants and solvents from crops such as soybeans and corn.

—The Biomass-to-Energy Project: Also the recipient of a Third Frontier award, this project involves taking animal manure, food-processing leftovers, crops and other biomass resources and converting them to clean, renewable energy. This research brings together two different technologies — biodigesters, which turn waste into biogas, and fuel cells, which can use biogas and even vegetable oils to generate energy.

—Natural Rubber Research: This study aims to develop a species of dandelion from Kazakhstan and Uzbekistan as an American-grown source of natural rubber.

Additional resources OARDC brings to the table include the Food and Agricultural Technology Commercialization and Economic Development Program (ATECH) and the proposed BioHio Research Park, which is expected to host startup companies partnering university research and entrepreneurial efforts.

Seeds of Opportunity chairman Harry Featherstone, retired CEO of worldwide pneumatic telescoping masts and lighting manufacturer Will-Burt Co., and former operations manager and head of materials for top U.S. automakers Ford and GM. says that "the development of this vehicle would not only be significant for the value of the car itself, and what it would mean to our societies and the world, but also for the progress and innovation sure to be realized in the development of products and processes necessary to produce the car."



Picture

: Mercedez-Benz RECY concept, largely made of bio-degradable parts and fueled by biodiesel - presented at the Los Angeles Auto Show's Design Challenge.