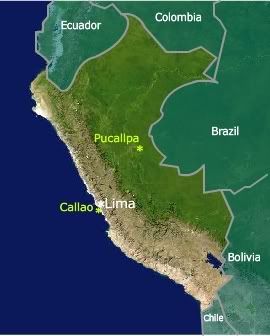 Pure Biofuels
today
announced
its plans to lease 60,000 hectares near the city of Pucallpa in central Peru for the cultivation of African oil palm to provide feedstock for its Callao Port biodiesel production facility on the coast near Lima.
The city of Pucallpa is located near the Brazilian border, some 500km (300miles) inland from the Callao port. The land, currently classified as 'empty and degraded', is being made available to Pure Biofuels under a sanction agreement with the government of Peru. The company expects to complete its application process and finalize its lease in the coming months.
"The lease of this land provides Pure Biofuels with a unique, vertical self-supply capability that will help sustain our production capacity at levels unattainable by other producers in the region," stated Pure Biofuels' President, Luis Goyzueta.
The biofuel maker is confident that the African Palms it intends to cultivate will find a healthy environment in the central Peruvian forests. It's a hearty plant that thrives in the tropical environment. "Our ability to self-supply our feedstock will contribute to our independence and protection from outside market conditions and commodity price fluctuations and will undoubtedly help Pure Biofuels prosper".
The biofuel producer's production
facilities in Callao
consist of three 17.5 million gallon (66 million liter) per year modules, with an annual production capacity of 52.5 million gallons (almost 200 million liters) of biodiesel per year. The plant is being built on a 47,000-square-meter parcel of waterfront land located a short distance from the La Pampilla Refinery, one of Peru's largest oil refineries:
biomass :: bioenergy :: biofuels :: energy :: sustainability :: oil palm :: biodiesel :: Peru ::

With a 50 million gallon per year facility, Pure Biofuels hopes to make a significant impact on the amount of diesel fuel used in Peru, and, more importantly, it says it can help contribute to the energy independence of all of South America.

If its plans are realised, Pure Biofuels would indeed be one of Latin America's larger biofuel companies. The flagship project, the Callao Port biodiesel refinery near Lima, Peru, is scheduled to commence production during the fourth quarter of 2007.

The Callao Port refinery will process biodiesel from Pure Biofuels' own crude palm oil feedstock, whereas the firm has also secured memorandums of understanding with local fuel distributors for all of Callao Port's annual biodiesel production.