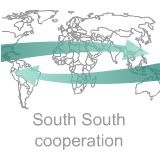 During a visit to Indonesia, Brazil's agriculture minister Luís Carlos Guedes Pinto
signed
[*Portuguese] an agreement aimed at intensifying cooperation on biofuels. The pact is based on tech transfers of Brazilian ethanol and biodiesel technologies.
Meeting with his counter-part Anton Apriyantono, both countries signed a memoradum for the creation of a Brazil-Indonesia Consultative Committee on Biofuels.
With its 245 million inhabitants Indonesia is the world's fourth most populous country. It wants to revitalise its agricultural sector and increase its energy security by investing massively in bioenergy. The Indonesian government has so far invested US$1.42 billion in the sector, with more than 67 projects for the production of liquid biofuels signed so far, and with 114 biomass power plants under construction across the archipelago (
earlier post
). The country plans to inject a total of US$ 12.4 billion over the coming 3 years (
earlier post
).
The program is seen as a way to alleviate poverty and to generate employment, as some 2.5 million jobs will be created in the sector (
earlier post
).
Indonesia mainly produces biodiesel, with more than 11 government-supported biodiesel plants under construction (
earlier post
), but the country wants to replace gasoline with ethanol as well. Its ethanol program is based on sugarcane and cassava. To achieve its goals, Indonesia will be planting 2.25 million hectares to grow the crops, out of a total of 6 million that have been allotted for energy crops (
earlier post
). Under the new agreement, it will draw on Brazil's extensive technological and scientific experience.
Brazil is rapidly building South-South relations aimed at creating a global market for biofuels. Recently, it opened a special office in Accra, Ghana, to strengthen links with African countries (
earlier post
) [entry ends here].
biomass :: bioenergy :: biofuels :: energy :: sustainability :: ethanol :: sugarcane :: cassava :: technology transfers :: South-South :: Brazil :: Indonesia ::