Quicknote bioenergy technology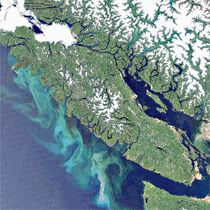 AlgoDyne Ethanol Energy
,
announces
that it has developed a new process to harvest significant amounts of biomass from marine algal blooms. Massive marine algal blooms occur in almost all oceans of the world, often caused by man-made nutrient pollution, and are known to be harmful to the aquatic ecosystem. AlgoDyne believes that its harvesting technology could yield huge amounts of biomass usable for ethanol production at virtually no cost, and this harvesting of harmful algal blooms will ultimately protect the ocean's marine ecosystem.
Mr. Richard Ritter Von Raffay, President of AlgoDyne states "To be able to use our harvesting technology to improve the quality of our oceans and remove harmful algal blooms is a significant accomplishment for the company and the environment."
AlgoDyne is a company that develops micro-algae technologies it thinks will provide a means to produce clean, renewable energy from the continual harvest of biomass from photo-bioreactors. The end result is the production of ethanol, methanol, biodiesel, electricity, coal and animal feed – all in a carbon dioxide neutral way.
Earlier, we had an in-depth look at biofuels from algae, and found that, despite the publicity, no company has ever achieved large-scale, efficient and affordable production. Photobioreactors are relatively expensive and require a large amount of materials, the production of which is energy intensive, whereas algae production in open ponds yields low and unnstable amounts of biomass. Large scale trials that took place in the 1980s yielded interesting results (
earlier post
).
From these trials, several insights into algae harvesting technologies have surfaced. Two basic techniques can be distinguished:
mechanical harvesting by means of strong membranes (in the late 1970s, at the height of the oil crisis when prices hit records that still stand, such membranes were deemed too costly; see the "Membrane Harvesting Project")
chemical and/or biological harvesting by means of flocculants; the technique works by introducing a chemical agent in the algae culture, after which the micro-organisms gather in a high concentration. Flocculation techniques only work on specific algae species; some of these species could be engineered to 'auto-flocculate'

AlgoDyne's concept of harvesting algae from the wild is not exactly new. Many similar ideas have been proposed in the past, most notably those of harvesting sea-weeds such as kelp on a large scale to utilize the biomass for energy. Several small companies have also been harvesting wild algae from lakes, with specially designed harvesting machines, for years. The process is energy intensive and cumbersome. It remains to be seen whether AlgoDyne's idea to actually collect phytoplankton from the open oceans is practicable. It basically remains an activity that can not be planned, scaled or rationalised, as algae blooms have the tendency to grow and disappear suddenly. The company gave no details on the innovation it claims it has made, nor in which way it differs from the many harvesting technologies that have been tried. We will be following up on this story when more information emerges [entry ends here].
biomass :: bioenergy :: biofuels :: energy :: sustainability :: ethanol :: biodiesel :: algae :: blooms :: oceans ::