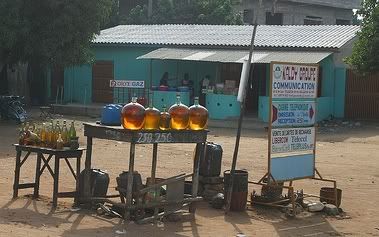 Since 2004, crude oil prices have repeatedly surged to all-time highs due to the rising demand in Asia and volatile situation in the Middle East. Accordingly, prices for transport, cooking and heating have increased in many countries, and have become an issue for public concern.
The high price of crude oil and taxation on petroleum products also affect the national budget of many countries. On the one hand, numerous countries earn revenues through taxation on petroleum products, which can be used for financing transport and providing social services such as schools and healthcare. On the other hand, fuel subsidies can devour a huge amount of a country's financial resources.
By providing extensive data on fuel taxation in developing countries since 1998, the
Deutsche Gesellschaft für Technische Zusammenarbeit GmbH - German Technical Cooperation
(GTZ) - has been helping to advance public discourse. Decision-makers in partner countries now have access to relevant information on pricing within a regional context and on the potentials of fuel taxation.
The GTZ has been tracking fuel prices in the developing world for several years, and published its publicly accessible data on a dedicated website (
internationalfuelprices.com
). The new publication
"International Fuel Prices 2007 – Data Preview"
[*.pdf] is based on an international survey carried out in Mid-November 2006. The publication contains the following information: Diesel and gasoline Prices of about 170 countries and Time Series of Price Trends.
The more extensive and still relevant
2005 edition
[*.pdf] includes information on:
diesel prices of 171 countries
gasoline prices of 172 countries
time series of price trends
fuel taxation for state financing
fuel subsidies
fuel prices and purchasing power
contraband of fuel worldwide
government tax calculation
The
GTZ's reports
are an important source of data in the context of the nascent biofuels sector. They allow governments, NGOs and business to assess whether investing in a local biofuel project makes sense from a commercial and economic perspective. In combination with data on local commodity prices (feedstocks for biofuels), the fuel price information reveals whether biofuels are potentially competitive.
The GTZ also invites the public from the developing world to participate in the ongoing survey. So if you live in the South, don't hesitate to add current fuel price data of your country to the
International Fuel Price Survey's database
[entry ends here].
energy :: sustainability :: fuel :: oil :: gasoline :: diesel :: developing world :: biofuels ::