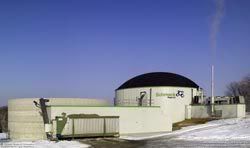 Local energy player REWAG and the world's largest biogas firm Schmack Energie Holding's subsidiary
Schmack Biogas AG
have partnered to
create
[*German] a joint-venture that will supply the German region of Regensburg with renewable, carbon-neutral biogas. Through a new company, called RENION Biogas GmbH, both partners will invest up to €50 (US$65.7) million into new infrastructures, biogas plants and distribution chains.
The biogas will be produced from dedicated energy crops (such as special
biogas maize
, and purpose-bred grass species such as
Sudan grass, Sorghum
and their
hybrids
), and provide a feedstock for the production of electricity, heat, and fuel for cars. Part of the biogas stream will be used on-site, whereas another part will be fed into the natural gas grid of the region.
It is the largest investment of its kind.
"With this venture we stimulate the creation of added value for the local economy."says Norbert Breidenbach, CEO of REWAG. Ulrich Schmack, CEO of Schmack Biogas AG adds: "Moreover, this way we considerably reduce our dependence on gas imports from abroad."
Ulrich Schmack aqcuired some notoriety last year, when he, as an energy advisor to the German government, said the country could replace
all
natural gas imports from Russia, by investing in biogas (
earlier post
). Later, he was proven right by a report that indeed showed the enormous potential for biogas production in Europe: at current investment rates, by 2020 Europe could become entirely independent from Russian gas (
earlier post
). With the foundation of RENION, Schmack now indicates he's willing to back his own vision with the necessary funds.
Biogas blossoms
Biogas has seen a real boom in Germany: last year, some 3500 large biogas plants were online, producing more energy than the country's famed wind industry (
earlier post
). Of these biogas plants, Schmack operates 171 with a combined capacity of 41MW. The German government supports the renewable energy sector, and especially the segment based on the utilisation of biomass resources:
biomass :: bioenergy :: biofuels :: energy :: sustainability :: natural gas :: biogas :: biomethane :: Germany ::


The potential of the green gas is gradually being recognized outside Europe, with U.S. analysts predicting 2007 will be the year biogas makes its definte breakthrough accross the pond (earlier post).

"As a utility, we have the political duty to tap into new energy sources, in order to ensure our independence from fossil fuels, the supplies of which have become problematic, and to create a diversified energy mix," says Breidenbach. Both companies want to rely on each other's expertise and competences to create synergies with which it will become possible to market the heat from the biogas cogeneration plants in an efficient manner.

Schmack: "Through the joint-venture with REWAG, we speed up the creation of our own companies, a committment we made to our shareholders. REWAG is a strong partner in the region. Together, we can find suitable sites for biogas plants much easier, and tap the opportunities to feed biogas into the regional natural gas grid. Moreover, together we will be in a position to bring the generated heat to market in an efficient way. We are very pleased to have the local government on board, which fully backs this project."



Regional advantages


Up to two thirds of all productive activity carried out by the joint-venture will be located in the Regensburg region. This way, employment is generated and locally grounded chains of added value are created, as the activities, from the source to the consumer, are all anchored in and around Regensburg.

The local government's role is seen as crucial and beneficial. The institution has initiated information sessions for stakeholders and for the public at large - an important step towards the long-term success of this kind of projects, which often hinges on public acceptance and transparent information. The local government will also be directly involved in concrete planning steps for the establishment of the biogas plants.

Biogas - the most efficient of all biofuels
Both partners stress that biogas is the most efficient of all green fuels, as it yields the highest amount of energy when the entire farm-to-fuel chain is analysed (earlier post).

Crude, unnpurified biogas can be used directly, on-site in combined heat-and-power plants, but after scrubbing the CO2 out, it can be fed into the natural gas grid (earlier post). This way it reaches consumers without them noticing it.

REWAG has extensive experience with the transport and distribution of natural gas, and with contract models for the distribution of heat. The company also co-operates with the construction sector and offers efficient concepts for heat systems that are integrated in building plans from the start. Biogas plants neatly fit into this activity.

Biogas is used most efficiently in combined heat-and-power plants, with the generated heat distributed on a district level.

But the renewable gas also makes for a green fuel to be used in CNG-capable cars. German energy companies are marketing the green gas as such and are building dedicated highway fuel stations for it (earlier post). As such, biomethane has the highest energy efficiency and the lowest carbon footprint of all renewable transport fuels. Seen in this context, RENION's investment will result in an amount of energy capable of fueling 20,000 cars per year.