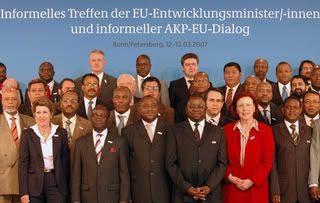 The development ministers of the 27 EU member states concluded their
informal meeting
at the Petersberg near Bonn earlier this week. It focused on energy cooperation between Europe and the 78 ACP (Africa, Caribbean, Pacific) countries. Afterwards, the EU development ministers met about 30 colleagues from ACP countries for an informal dialogue on Economic Partnership Agreements (EPA's) – the first time a meeting has been held between these two groups.
Ministers and representatives of the European Commission also adopted the
"Petersberg Communiqué on European Development Policy"
. Based on the EU's objective to eradicate poverty in the context of sustainable development and in line with the UN's Millennium Development Goals (MDGs), the communiqué reiterates the objectives, values and principles of European development cooperation.
In a joint press conference with EU Development Commissioner Louis Michel and Trade Commissioner Peter Mandelson, the German Development Minister Heidemarie Wieczorek-Zeul announced the forging of an energy partnership between Europe and Africa.
She emphasized that without sustainable access to energy, there can be no development: "Rising costs for fossil energy are jeopardizing development achievements in Africa. We in the European Union therefore want to support Africa in expanding the use of renewable energy and improving energy efficiency."
The Minister also drew attention to the impact of climate change in Africa: "It is obvious that Africa is not to blame for anthropogenic climate change, but Africa is hit particularly hard by the consequences of climate change." The Minister noted that, in the proposal to be presented by the European Commission for a Europe-Africa energy partnership later this year, adaptation to climate change would therefore play a central role:
biomass :: bioenergy :: biofuels :: energy :: sustainability :: renewables :: energy security :: climate change :: EU :: Africa ::

With regard to the meeting of EU ministers with some 30 ministers from the ACP countries, Wieczorek-Zeul said: "There is vast agreement within the EU that the main purpose of Economic Partnership Agreements with the ACP countries is to achieve progress on development. Europe does not have any aggressive trade interests in the developing countries."

Peter Mandelson, European Commissioner for Trade and EU chief negotiator for the Economic Partnership Agreements, confirmed that "they [EPAs] are a genuine development instrument. At their heart is a determination by us to put trade at the service of development."

EU Development Commissioner Louis Michel drew attention to the fact that the ACP countries' share in global trade had been stagnating for the past 30 years, pointing out that the European Union was already making available one billion euros per year to support the ACP countries in developing their trade (aid for trade). After the conclusion of the Economic Partnership Agreements, he said, this assistance would be doubled to 2 billion euros.

At the end of the meeting of EU development ministers, Wieczorek-Zeul presented the Petersberg Communiqúe on Development Policy. The Minister noted that the declaration documented the broad consensus existing among EU member states and was impressive evidence of the European process of convergence on development policy.




More information:


German Presidency press release on the energy partnership - March 13, 2007.
Petersberg Communiqué on European Development Policy [*pdf] - March 13, 2007
Joint statement of the EU Development Ministers: "The European Consensus on Development" [*pdf] - December 20, 2005
EU Commission website: Economic Partnership Agreements [*pdf]
EU Commission website: trade relations with ACP countries