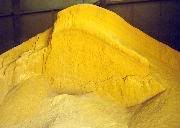 According to
EU Energy Commissioner
Andris Piebalgs animal feed and meat products will become cheaper when bioenergy is implemented on a large scale over the coming years.
For his analysis Piebalgs draws on a number of studies carried out by European Commission to investigate the expansion of biofuel production in the EU, in particular the recently released
Biofuels Progress Report - Report on the progress made in the use of biofuels and other renewable fuels in the Member States of the European Union
[*.pdf].
Until now, some assumed that the biofuel industry only consumes large amounts of biomass which would normally be used as animal feed. However, the valuable by-products from both bio-ethanol and biodiesel make for good animal feed ingredients themselves. Residual oils, glycerine, oil cakes and different types of distillers grains all have good nutritional qualities. Large-scale production of biofuels will therefor be beneficial for the feed industry, as more and more synergies between fuel and feed production emerge.
According to the EU Commissioner, the trend will result in a price decrease of animal feed and consequently meat products. Piebalgs did not specify how much the prices will decrease in the future, but saw a generally positive evolution [entry ends here].
biomass :: bioenergy :: biofuels :: energy :: sustainability :: ethanol :: biodiesel :: by-products :: animal feed :: meat products ::