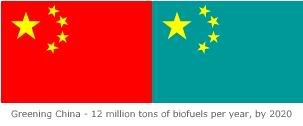 After compre- hensive studies, a panel of the
Chinese Academy of Science
's (CAS) Academic Divisions recently wrote a set of recommendations on the long- and medium-term development strategy for energy sources that can supplement or substitute petroleum in China. Some of the strategies conform with the country's bioenergy plan (
earlier post
).
The report gauges the future development trends of energy sources both in China and the world, making forecasts on the availability of petroleum resources, their demand, and production capacities from 2020 to 2050. The forecast consists of two parts, (1) on the supplementation and substitution of petroleum fuel and (2) on the improvement and substitution of the power systems of transport vehicles, respectively.
Regarding the development of petroleum substitutes, including fuels from non-conventional oil and coal, natural gas and biomass, the report makes the following proposals for action over the next five years:
Vigorously promoting the prospecting and assessment of China's oil shale resources.
Deepening the research and development of key technologies that are directly or indirectly associated with liquefaction; providing support to the construction of demonstration plants with an annual production capacity up to one million tons of substitute fuels using the two technological alternatives, with a view to gaining experiences for industrial application of the production technologies.
A scientific verification on gasoline and diesel substitutes in an all-round manner should be completed as soon as possible. Also in need is the encouragement given to the technologies using cellulose and semi-cellulose as raw materials for ethanol production. Research should be conducted into the breeding of fast-growing energy-rich plants in desert and desolate areas that can provide biomass for bio-ethanol and biodiesel manufacturing. Furthermore, efforts should be made to develop mass production bases for those fuels without the occupation of farmlands.
Continuously promoting industrialization of the production of bio-ethanol and biodiesel from biomass.
As the shortage of conventional petroleum becomes increasingly acute and crude oil prices keep soaring, the markets for non-conventional petroleum (referring only to extra-heavy oil, and the petroleum from oil sands and oil-shale) are expected to constantly expand, partly making up for the shortfall. Resources of coal and natural gas are relatively abundant in this country, and their conversion into the fuel driving transport vehicles is now technologically viable and could be competitive when prices of conventional fuels are at the high end of the range.
According to the CAS, during the period of the world's transition to a post-petroleum economy, increased use of coal and natural gas as a substitute of conventional fuel should be possible.
Other optional substitutes include biomass-based ethanol, carbinol (a methanol based alcohol), dimethyl ether, biodiesel, synthetic oil and hydrogen, which are also internationally seen as a direction for development. Equally significant are technological innovations with regard to transport vehicles. There is a need to develop energy-efficient vehicles, vehicles using substitute fuels or powered by electricity, as road transport is a most important part of the transport and communication industry. Rail transit systems are a major approach for public transportation and a main way of energy conservation:
biomass :: bioenergy :: energy :: sustainability :: efficiency :: conservation :: electric vehicles :: rail :: biodiesel :: ethanol :: methanol :: biofuels :: China ::


The following proposals are raised on energy conservation in the transport and communication industry:

First of all, positive efforts should be made to promote the adoption of new power systems for the automobiles, which are good at energy saving and diversified for energy sources. Priority should be given to electrified power systems with zero discharge of exhaustive gases. There is the need to vigorously carry out the research and development of highly efficient, low-cost systems of fuel cells and lithium ion batteries. The key issues in the application of electric vehicles and its early industrialization lie in the solution to the problems of electric power supply and hydrogen fuel storage on vehicles. To this end, resources should be pooled to remove the technological bottlenecks such as short service life, high production costs, poor reliability and performance of such systems. Meanwhile, feasibility studies and large-scale demonstration projects should be conducted on such infrastructure facilities as hydrogen fueling stations and electric vehicle charging stations so as to speed up the industrial development of fuel cells and lithium ion batteries.

Secondly, electrified rail transportation should be developed in a big way. Railway electrification and increased speed of passenger trains are the way of ensuring the dominant position of railways in the communication and transport industry. More efforts should be made to develop urban rail transit systems, with a view to effectively curbing the rapidly increasing number of automobiles used in cities and reduce the per vehicle consumption of oil.

The report notes that introduction of energy-efficient technologies is time consuming and has to be accomplished in well-planned phases. For work over the next five years, it suggests that support should be rendered to the research, development and pilot studies by various sectors in this regard. Initial work should be done on selective basis when putting such technologies to industrial application. Prudence should be the approach toward massive application of such technologies in industrial production in the current R&D phase, and only after a full verification will it be appropriate for the government to make a major decision to its large-scale industrialization. The report also proposes a key national research program in the field, which should be launched through coordination of the national authorities and implemented continuously under the centralized leadership and management.



More information:


Chinese Academy of Sciences: CAS scientists make suggestions on energy source development - March 6, 2007.