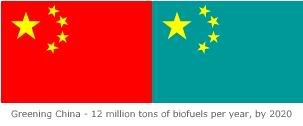 Chinese scientists are working on new technologies and breeding oil-rich rapeseed varieties to fuel the People's Republic fast-growing economy with biofuels.
Experts attending an ongoing international conference on rapeseed
say
that China, whose annual rape production is 30 percent of the world total, should use more farmland to manufacture biodiesel, an effort that will reduce its dependency on petroleum-based diesel and cut greenhouse gas emissions.
Earlier, we
reported
that Chinese scientists succeeded in breeding rapeseed with a record high oil content (54.72 percent), nearly two percentage points higher than the previously reported highest variety. The new strain, named Zhongyou-0361 and bred by the Institute of Oil Crops Research of the Chinese Academy of Agricultural Sciences, is disease resistant, early maturing, can be grown at high altitudes and is genetically unmodified.
Encouraged by these developments, Wang Shoucong, an official with the Ministry of Agriculture says: "The development of the global biodiesel industry offers China new opportunities. The government should foster research work to nurture high-yield rapeseed species, develop new technologies to increase biodiesel output and expand rape production in south China in the slack season."
It is unclear however how this push towards an expansion of rapeseed production for fuels fits into the official Chinese policy of reducing the use of food and grain crops for biofuels.
China currently grows around 7 million hectares of rape, with an annual output of 13 million to 14 million tons. But because of "backward" technologies the country is making only 100,000 tons of biodiesel a year out of rapeseed, said Prof. Huang Fenghong at the oilseed research institute of the Chinese Academy of Agricultural Sciences:
biomass :: bioenergy :: biofuels :: energy :: sustainability :: plant breeding :: rapeseed :: biodiesel :: China ::

As the world's third largest oil importer after the United States and Japan, China imported a record 36 million tons of refined oil last year, 15.7 percent up on 2005, to fuel its 10.7 percent economic growth.

Experts at the meeting say biofuels have become the fourth most important energy source after coal, oil and natural gas in China.

By 2020, China will be able to produce 12 million tons of liquid biofuels such as bioethanol and biodiesel, replacing some 10 million tons of refined oil products, predicted Han Wenke, deputy director of the Energy Research Institute of the National Development and Reform Commission (NDRC).