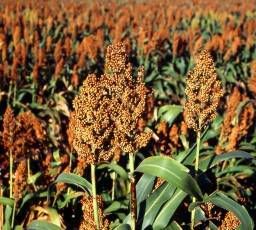 The Philippine Department of Agriculture (DA) announced it will conduct planting trials at its research center in Capiz - in the Western Visayas province - to study the adaptability of high yield sweet sorghum varieties to local conditions. The varieties were developed by the International Crops Research Institute for the Semi-Arid Tropics (ICRISAT) (
earlier post
) and showed promising results (for basic data, see
here
).
The adaptability tests will be conducted at DA's 7-hectare Regional Integrated Agricultural Research Center (RIARC) located along the Panitan and Sigma boundary area at Timpas, Panitan and Malapad Cogon, Sigma.
Henry Tumlos, chief of the DA-RIARC Center in Capiz, said trials will be conducted upon the onset of the wet season this season this year. Tumlos said that at present he has five varieties of sweet sorghum ready for the trials. The RIARC here is one of four such centers that were established by DA in Western Visayas. The others are located in Iloilo, Negros Occidental and Antique.
Although devoted primarily for rootcrops research, the Capiz center can also be used for research studies involving other crops including sweet sorghum, which is being considered by the national government as one of the sources of biofuels, according to Tumlos.
So far, there has been no wide-scale production of any sorghum variety in Capiz, according to local authorities. Philipine President Arroyo has said she would promote the crop as an alternative feedstock to ethanol manufacturing and extracting processes.
The President made the move after the ICRISAT successfully produced ethanol from the high yield varieties in India - with the fuel having a strong energy balance. Later, tests conducted in Luzon showed the crop can be grown in the Philippines with impressive yields:
biomass :: bioenergy :: biofuels :: energy :: sustainability :: sweet sorghum :: ethanol :: Philippines :: Capiz ::

ICRISAT, a non-government organization based in India, is headed by Filipino William Dar, former DA Secretary.

President Arroyo signed into law on January 17, 2007 Republic Act No. 9367 or the Biofuels Act of 2006 to promote the production and use of alternative energy sources to lessen the country's dependence on imported oil.

The use of biofuels has already been going on in the country, although on a limited scale as of now.