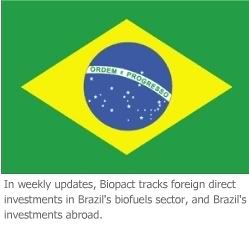 We continue our weekly update on what's happening in Brazil's bioenergy market. Two important stories dominated the headlines, namely the signing of Brazil's ethanol pact with the U.S., and the speed with which a Brazilian agricultural office in Ghana is building South-South cooperation and tech transfer links with African countries. We covered both stories earlier (
here
and
here
).
This week saw news about the biofuels mandate in Brazil, about ambitious export goals and trade with Japan, and about a massive €181/US$240 million investment by foreign investors into a Brazilian sugar and ethanol joint-venture that will be building 4 new facilities with a total crushing capacity of 20 million tons per year.

Boosting the ethanol mandate
In Brazil itself, the government is looking at
boosting the ethanol mandate
to 25%, up from 23% today.
Angelo Bressan, head of the Agriculture Ministry's sugarcane and biofuels department, expects the change to be implemented by May, when Brazil's ethanol mills will be running at full capacity.
Brazil's sugarcane farmers are expected to harvest a record crop this year. Ethanol output may rise to as much as 20 billion liters (5 billion gallons) from about 18 billion liters in the previous crop, Bressan told reporters in Sao Paulo.
Use of the biofuel in Brazil may rise to as much as 15 billion liters this year, from about 14 billion liters last year, he said. The amount may jump to 30 billion liters as early as 2013, Bressan said.

Tripling ethanol exports
Brazil's Agriculture Minister Luis Carlos Guedes Pinto said the country
plans
to almost triple ethanol exports in the next seven years and will need investments of about €10.1/US$13.4 billion to boost output.
Brazil plans to more than double production of ethanol to 35 billion liters, Guedes said via a translator in an interview with Bloomberg News in Tokyo. Exports may account for as much as 10 billion liters, he said.
According to the minister, President Luiz Inacio Lula da Silva's government is boosting exports of biofuels not only to help the nation expand crops output but also to discourage poor farmers from migrating to cities
Guedes added that Brazil expects to build 89 new ethanol production plants in the next seven years. The nation's sugar cane output may rise to 627 million tons from 427 million tons as a consequence:
biomass :: bioenergy :: biofuels :: energy :: sustainability :: ethanol :: biodiesel :: Japan :: Indonesia :: Brazil ::


Ethanol for Japan
Japan, under pressure to set out decisive measures and cut emissions of greenhouse gases, will expand use of environmentally friendly fuel and has signed import agreements with Brazil.

In a meeting with Japanese business leaders in Brasilia on March 7, the same minister, Louis Carlos Guedes Pinto, said that the South American nation can ensure supply to Japan should the Asian country mandate gasoline containing 3 percent of the biofuel.

Nippon Oil Corp., Japan's biggest oil refiner, and domestic rivals plan next month to start test-sales of gasoline blended with ethyl tertiary butyl ether, a fuel additive made from crop- produced ethanol and the chemical isobutylene.

Brazil needs to sign medium- and long-term supply contracts with Japan, in order for the South American nation to export ethanol to the Asian country, Guedes said. Before starting exports of the fuel, an ethanol plant project requires a three- year lead time to grow sugarcane for the new plant.

Guedes stressed Japan and Brazil should cooperate and help Southeast Asian countries embark on projects to produce ethanol for automotive fuel, and diversify supply sources of the biofuel in the global market.

Prime Minister Shinzo Abe's government plans to boost the country's ethanol use to 500,000 kiloliters (3.1 million barrels) in 2010, as part of efforts to achieve an emissions reductions target set under the Kyoto Protocol. Under the accord, Japan pledged to cut greenhouse gases 6 percent by 2012 from 1990 levels to help combat climate change.

In fiscal year ended March 31, 2006, Japan emitted 8.1 percent more greenhouse gases including carbon dioxide than it did in 1990, according to the environment ministry.

Guedes then made a three-day visit to Tokyo and met with executives of Itochu Corp., Japan's fourth-largest trading company, to exchange views on ethanol businesses, he said at a press conference after the interview with Bloomberg News, without elaborating.

Itochu and Indonesian partner PT Molindo Raya may start producing ethanol from two proposed plants in the Southeast Asian nation in the second half of next year. The plants in Lampung at the northern tip of Sumatra and Pacitan in East Java province will start production in the third and fourth quarters of 2008, Alhilal Hamdi, head of a government team promoting biofuel, said by telephone yesterday.

Itochu will complete a feasibility study to build ethanol plants in Indonesia and Thailand by the year-end before deciding to go ahead with the projects, spokesman Masahide Kitagawa said on March 12.

Guedes is due to leave Tokyo today, and heads for Jakarta to hold a seminar on biofuel, he said. Earlier this week, the minister had a meeting with Japan's Agriculture Minister Toshikatsu Matsuoka and discussed issues related to bioethanol and livestock trade.



Group invests US$240 million


Private equity firm Carlyle Group and a group of investors agreed on Wednesday to invest €181/US$240 million in a Brazilian ethanol and sugar producer, betting on growing demand for biofuels.

The group, led by Carlyle and private equity firm Riverstone Holdings LLC, will put the funds into Companhia Nacional de Acucar e Alcool (CNAA), a joint venture between sugar and ethanol producer Santa Elisa and Global Foods holding.

Global Foods said in a statement that the Carlyle /Riverstone Renewable Energy Infrastructure Fund pledged $187 million of the total funding. Funding was coordinated by the Dutch ING Bank.

CNAA plans to build at least four sugar and ethanol mills in Minas Gerais and Goias states in Brazil's center-south, Brazil's main sugar-cane producing region. Total cane crushing capacity will be 20 million tonnes a year from 120,000 hectares of plantations.

"It is CNAA's intention to take Santa Elisa's strength as an industry pioneer for the past 70 years to the newer cane-growing areas of Brazil where efficiency gains are still available...," Allan Kahane, a co-founder of Global Foods, said in the statement.

Kahane, a Brazilian, said that CNAA would be supported by Crystalsev, one of Brazil's biggest sugar and ethanol distributors in which Santa Elisa is the main shareholder.

Santa Elisa, controlled by the Biaggi family, owns three mills and was the first to produce fuel ethanol in Brazil in 1975. It is in merger talks with Companhia Vale do Rosario, which was the target of a recent takeover bid by Brazil largest sugar and ethanol producer Cosan.

Global Foods specialises in global preferential trade access for sugar and ethanol.

The Carlyle Group manages $54 billion and Riverstone, a New York-based $8.1 billion, including $800 million in its renewable energy infrastructure fund.