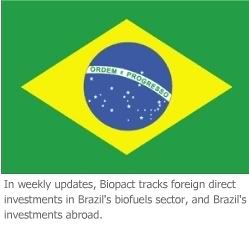 Brazil's biofuels sector has had a busy week again, with the launch of the International Biofuels Forum (
earlier post
), an investment for the creation of the world's largest biodiesel plant, and news about a new biofuel pipeline aimed at transporting ethanol and biodiesel to export facilities on the Atlantic.
Largest biodiesel plant
First of all, recently falling oil prices are not scaring a group of Brazilian and U.S. ivestors who are planning to build the world's largest biodiesel plant in Sumare, a small town in the interior of Sao Paulo state. The new biofuel company behind the project is called Brasil Eco Energia. Brazil's
Ministry of Foreign Relations
has the following details:
Investors

: David DeWind, two Brazilian businessmen and a couple of U.S. funds are involved in the 600 million reais (€214.6/US$273.9 million) investment to create Brasil Eco Energia. DeWind owns Brasil Bio Energia, a eucalpytus and reforestation company serving the paper and pulp industry, located in Piaui state in northern Brazil. One of the Brazilian investors - Jose Americo Ribeiro dos Santos - is a business owner of Latin America's largest grain storage facility, capable of storing 405,000 tons of grains.

Capacity

: the biodiesel plant will be capable of producing 835 million liters of biofuel annually. This comes down to around 14,500 barrels per day of oil equivalent.

Feedstock

: Brasil Eco Energia will use soybeans as its feedstock, with purchases of 3.5 million metric tons of soybeans expected annually, that will be crushed at its plant in Sumare.
Construction begins in the first quarter of 2007, with the facility fully operational by 2008.
In that year, Brazil's mandate to blend a 2% mix of biofuel in all diesel fuel will be implemented. The Brazil biodiesel market will consume some 800 million liters just to meet this 2% mix rule. But according to recent government estimates, the biodiesel share could be increase to 5% by 2010 (earlier post).
Demand from the local market will grow fastest because Brazil burns two and a half times more diesel than ethanol, currently Brazil's No. 1 renewable fuel source. Brazil's energy giant, Petroleo Brasileiro (PBR), or Petrobras, says Brazil imports about 30% of the diesel it consumes, adding to overhead costs in the country's agricultural sector.
Demand for cheaper diesel is what led Brazil to adopt the diesel mixture in the first place. Moreover, Petrobras is creating its own, innovative diesel mixture called H-Bio, to meet projected demand (
earlier post
). Archer Daniels Midland (ADM) is also
planning
to build a biodiesel plant in Mato Grosso, which will produce all of its fuel from soybeans.
Multi-fuel pipeline
Also this week, Petrobras - the country's state-owned oil & gas company,
announced
that the Brazilian southern state of Paraná will have a multi-fuel pipeline, which will transport ethanol from the midwestern states of Mato Grosso and Mato Grosso do Sul, and the northern region of the state of Paraná to the Atlantic Port of Paranaguá, where the fuel will be exported:
biomass :: bioenergy :: biofuels :: energy :: sustainability :: ethanol :: biodiesel :: biofuels :: pipeline :: Brazil ::

With a capacity for 18 million liters per year, the work, which will have an investment of approximately 2 billion reais (€715.3/US$ 940.7 million), is part of the Growth Acceleration Program (PAC) of the Brazilian federal government, and was confirmed last Thursday, March 1st, Brazil's Ministry of Planning, Paulo Bernardo, in Curitiba, the capital of Paraná state.

The multi-pipeline, which will also be capable of transporting gasoline and diesel, is going to cross the city of Araucária, in the Greater Curitiba region, where the Presidente Getúlio Vargas Refinery is based. The plant has a processing capacity of 189,000 oil barrels per day.

The multi-pipeline is part of a set of infrastructure projects for the southern Brazilian region, which, according to federal government plans, will receive investments of up to 37.5 billion reais (€13.4/US$ 17.6 billion) by 2010. The funds will be invested in the construction of roads, ports and airports, in partnership with the private sector.