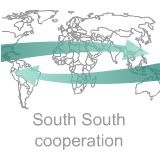 Brazil is taking its role as biofuels leader and its representation as a model for the Global South to follow, very seriously. Earlier we reported on the country's first exchanges last year with countries like Senegal, Nigeria and Sudan, and on how scientists are studying models to replicate Brazil's green energy success abroad (
earlier post
).
Late last year, however, the country gave a much stronger sign of its intentions, when the Brazilian government created a dedicated Africa cell for the
Empresa Brasileira de Pesquisa Agrícola
(Embrapa - Brazilian Agricultural Research Corporation) in Accra, Ghana's capital. Embrapa is a leading government-supported biotech and agricultural research organisation with a long history of involvement in Brazil's biofuels success (e.g. Embrapa helped decode the genome of sugarcane).
Earlier this month, diplomats of 18 African embassies gathered in the Brazilian capital Brasília, to attend the announcement of the objectives of the organization's new office in Africa. Its aims are to promote South-South exchanges of expertise and technology transfers from Brazil to Africa, in order to speed up the transition towards bioenergy and biofuels in the developing world. African countries have a vast untapped sustainable bioenergy potential (
earlier post
), and Brazil thinks that investing in it offers a powerful set of tools for economic development and poverty alleviation, for the fight against social inequality and for the revitalisation of rural communities.
Brazil is effectively giving birth to a new development paradigm, based on South-South exchanges, in which access to energy, energy security and social development are key.
A quick overview of Embrapa's actions on the continent during the first months of the existence of its Africa cell:
Morocco

becomes the first North African country to establish a partnership with the office. Two weeks ago, the coordinator of Embrapa Africa, Cláudio Bragantini, visited the agronomic research institute of the federal Hasan II Academy. According to Bragantini the partnership will be concentrated mainly in the production of biodiesel, which may be obtained from castor seeds and pine seeds, drought tolerant plants of the region. "The Moroccans are very interested in participating in trainings in the area of biotechnology and also in the development of agricultural projects with the private sector," stated Bragantini.

Libya

is another Arab country that has shown interest to make use of the Embrapa office in Africa. According to the Bragantini, the Libyan embassy in Ghana is keen on a partnership in the area of irrigated agriculture. "Libya finances many agricultural projects in Ghana and in other countries in the region," he said. According to Bragantini, the idea behind this specific project is to pipe a large volume of water discovered when drilling in the search of oil and use the product in irrigated agriculture. "There (in Libya) we have a great advantage. The government has financial assets and great interest in the project and Embrapa has the necessary technology. This is an opportunity that may generate a fabulous partnership. We promised to move ahead with this project and to send a letter of intention to the Libyan embassy in Ghana," he explained.

Tunisia:

with regard to Tunisia, Bragantini says that a delegation of four Embrapa Forestry representatives, from the southern Brazilian state of Paraná, travelled to the country to develop a project in the area of management of eucalyptus for the extraction of energy. The Brazilian embassy in Ghana has received a further note of interest from Tunisia to develop other projects related to bioenergy in arid environments.


Angola

- a country with a large bioenergy potential (earlier post) - has demanded help for expertise on developing a soybean industry for biofuels.
In

Mozambique

, Embprapa is looking into to strengthening the research capacities of the Institute for Agrarian Research of Mozambique (Iiam), which requested such help.
Across sub-Saharan Africa there is great demand for knowledge and expertise on the post-harvest processing technologies for cassava, one of the most abundantly grown crops on the continent. "We have already trained technicians in Ghana for this activity," explains Bragantini. Cassava is being researched as a feedstock for biofuel production.
Researchers from Embrapa's Africa cell have further visited Kenya, Benin and Togo (no details yet).
Embrapa's mission in the South
Bragantini explains that "it is worth pointing out that the office does not only represent Embrapa, but Brazil as a whole. The office works as an agent to facilitate the link between financial organizations and governments and we will have our doors opened to private companies in agribusiness that may be interested in participating in this revolution":
ethanol :: biodiesel :: biomass :: bioenergy :: biofuels :: energy :: sustainability :: rural development :: poverty alleviation :: South-South :: Brazil :: Africa ::

"We have a work agenda that is geared at transferring technology that worked in Brazil. We offer them our work and, if necessary, will work based on the demand of each country," pointed out Bragantini. The requests reach the office through the Foreign Relations Department at the Embrapa, through the Brazilian Cooperation Agency (ABC), directly to the office or even through international organizations interested in partnerships.

According to Bragantini, the greatest demand from governments is related to small farmers. "We have large volumes of technology developed in the northeast of Brazil and in the semi-arid regions of the country that may adapt well to the climate and soil in Africa," stated Bragantini.

According to him, the great demand is for direct planting and minimum cultivation (a system that requires some superficial soil work), for projects that promote integration between crops and livestock farming. "In savannas a large part of the soil is degraded and needs recovery," he said.



Social development, poverty alleviation


Long neglected by international development agencies, governments and NGOs alike, basic agriculture is back into the spotlight of policy makers and development economists. Brazil's left-leaning government, which has vowed to fight social inequality, poverty and hunger domestically - and achieved modest success so far - with programs in which rural development are key, now wants to export the same discourse on development to Africa. It feels international agencies like the World Bank, the IMF, or individual governments have not achieved any substantial success on this front, because these agents mainly rely on purely neo-liberal economic policies (symbolised by the now defunct 'structural adjustment' ideology) which tend to increase social inequalities.

By putting rural and sustainable development, and concrete tech transfers central to its own assistance program for Africa, Brazil makes a shift in current thinking on development. "We want to associate ourselves with the African countries. We want to make agreements for cooperation in the area of technology transfer for tropical agriculture," stated the acting head of international relations at Embrapa, Washington Silva, at the diplomatic meeting in Brasília. "The African countries need Brazilian help in the area of research and technology transfer to help in the development of the continent."

According to Silva, there is already sufficient demand in the African countries for cooperation agreements to be developed. "The ambassadors showed interest and inquired about how to proceed to have Embrapa services," he said. The meeting also served to schedule the beginning of dialogue to establish strategies for the strengthening of relations between Brazil and the African countries.



More information:


BrazzilMag: A Whole Lot Going on in Africa Courtesy of Brazil - March 13, 2007.
ANBA: Morocco wants to produce biodiesel with Brazilian technology - March 12, 2007.
BrazzilMag: Brazil Uses Agriculture to Fight Poverty in Africa - March 5, 2007.