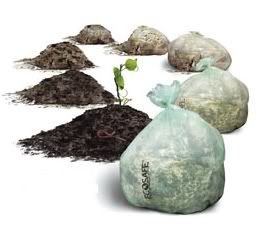 Sergio Marini, the newly appointed president of the Italian farming industry association
Coldiretti
, Europe's largest, has met with
EU agricultural commissioner Mariann Fischer Boel
in Brussels, appealing to her for replacement of all non-biodegradable plastic bags in the EU by biodegradable ones by the year 2010.
Marini argued that 1.4 million tones of carbon dioxide emissions and 700,000 tonnes of petroleum can be saved in Europe each year through substitution of conventional plastic bags with bags made out of biodegradable plastics (
earlier post
).
According to Marini, the switch would require use of three million hectares of agricultural land, or 1.5 percent of the present cultivated area in the 27 countries of the EU, to produce the amount of maize and sunflower needed to support such a switch for all the 100 billion bags that are today mainly imported from China, Thailand and Malaysia.
Conventional plastic bags result in one million tonnes/year of waste in the environment that can take 200 years to decompose and they also pollute marine environments (
earlier post
). One quarter of all plastic bags used in the EU are consumed in Italy:
biomass :: bioenergy :: biofuels :: energy :: sustainability :: climate change :: waste :: bioplastics :: biodegradable ::

Marini continued by saying that 0.5kg of maize and one kg of sunflower oil are sufficient to produce around 100 bioplastic shopping bags with an environmental effect justifying the present higher cost at eight cents for a biodegradable bag against five cents for one made in traditional plastic, with the biodegradable bag cost on a downward trend.

Coldiretti is involved in a bio-refinery project with bioplastics producer Novamont that has proposed using land set aside by the EU rules to grow the materials needed for bioplastics production.