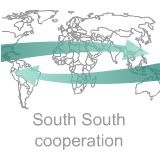 Even though biofuels were in no way to blame for the 'tortilla crisis', which affected Mexico, mainstream media perceived it as such. The main causes of the increase in corn prices are (1) the protection by tariffs of inefficient corn-based ethanol in the U.S., (2) the subsidisation of this fuel, (3) the vast corn subsidies in the U.S. and (4) a free trade agreement that both put millions of Mexican maize farmers out of business since the mid-1990s and made the country dependent on imported corn (
see earlier
). This has resulted in the massive and irresponsible use of a crop to make a biofuel that is not worth the energy (corn ethanol has a very bad energy balance) and that is not beneficial to the environment.
Today, given record prices, Mexican farmers have picked up growing the maize again, and are making unprecedented profits. This stimulates Mexico's rural economy and somewhat levels out the effects of the tortilla crisis (
previous post
). However, if the massive U.S. subsidies for the corn lobby and the tariff on efficient tropical ethanol were to disappear, the situation in Mexico would normalise much faster and the country that was once a self-sufficient producer could compete once again.
Biofuels were not to blame. U.S. 'lobby ethanol' was to blame. It is important to make this distinction, because Brazilian and other biofuels are not as inefficient as corn ethanol. The best illustration of the difference between the two was given yesterday, when the foreign ministers of Brazil and Mexico
agreed
to expand cooperation in the development of 'Brazilian biofuels' and energy.
Celso Amorim of Brazil and Patricia Espinosa Cantellano of Mexico created a commission that increases energy cooperation between the two nations, often described as rivals for leadership in Latin America:
biomass :: bioenergy :: biofuels :: energy :: sustainability :: ethanol :: biodiesel :: Mexico :: Brazil ::

The ministers declined to give details about agreements the two countries could sign regarding petroleum and biofuels. They said only that Mexican oil giant Pemex and Brazil's Petroleo Brasileiro, or Petrobras, could expand a 2005 agreement to search for oil in deep offshore waters.

Those topics could be the subject of a memorandum of understanding when Brazilian President Luiz Inacio Lula da Silva visits Mexico in August, Amorim said.

Mexico "is interested in technological cooperation for deep-water exploration, and we are interested in more direct participation by Petrobras," Amorim said. "They also are very interested in ethanol and biofuels." Mexico no longer has doubts about the viability of biofuels, Amorim said:

"There's a very clear difference from times past," he said. "There was a certain skepticism (in Mexico) about biofuels, and now I no longer see this. On the contrary, I believe there is enthusiasm, so much so that we discussed cooperation not only between Brazil and Mexico, but also in third countries."

It seems Brazil cannot be stopped in its mission of bringing green energy cooperation to other countries. After creating a technology transfer cell in Africa, it closed agreements with France, the UK, Sweden, the EU, the US, Indonesia and most recently Italy, to cooperate on biofuel production and technology development, bilaterally and in so-called 'South-North-South' exchanges.

Mexico's interest in biofuels (an in deep-sea exploration) can be partly explained by the fact that output at its Cantarell oil field - the world's second largest by volume - has begun to decline rapidly after hitting its peak late last year.