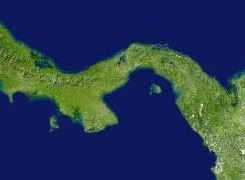 Brazil's president Lula da Silva has recently said that when he meets with president Bush later in March, he will address the issue of biofuel trade. The South American leader stresses biofuels produced in the U.S. are less efficient, both from an environmental as well as from an economic point of view, and thus consumers in the North would stand to benefit from importing green fuels from the South. Making ethanol and biodiesel a globally traded alternative to petroleum is in everyone's interest.
Now, the kernel of an
ethanol cooperation agreement
between the two countries is in the making after a Brazilian delegation of ethanol industry players met with American officials. The pact would roughly look like this: the U.S. would share technologies (such as those needed to make cellulosic ethanol) and lift its US$0.54/gallon tariff, whereas Brazil would counter-act Venezuela's grip on America's energy security by providing ethanol. Tech transfers mean that Brazil's biofuels - by far already the world's most efficient - will become even more efficient when it comes to their energy balance. We will be reporting back on this ethanol partnership when the meeting between Bush and Lula takes place in March.
Partnering with Panama
It seems like the fundamentals of the idea of biofuel trade are being accepted by the White House more and more though. While meeting with Panama's president Martin Torrijos on Friday, Bush
repeated
the message and said the U.S. is interested in importing biofuels from Panama as part of his plan to reduce US dependence on oil: "Your capacity to make biofuels and our desire to use biofuels will make an interesting match as we work to become less dependent on oil and better stewards of the environment."
Bush said he is committed to introducing US$35 billion worth of biofuels into the US market within 10 years, a plan also aimed at cutting pollution. Torrijos welcomed the idea:
biomass :: bioenergy :: biofuels :: energy :: sustainability :: ethanol :: biodiesel :: energy security :: biofuel trade :: tariff :: U.S. :: Panama ::

"The cooperation that we can have in research of biofuels will help all of our countries be less dependent on oil, have more opportunity for our economies to grow," Torrijos said.

Bush and Torrijos also discussed moving forward on a free trade agreement between the two countries. Bush will visit five Latin American nations in March for talks on trade, reducing poverty and drug trafficking. The March 8-14 tour is set to take Bush to Brazil, Uruguay, Colombia, Guatemala and Mexico.



Increased efficiency of tropical biofuels


If this type of energy agreements between the wealthy North and the Global South are created - they have the potential to resemble what we are aiming for here at the Biopact: a chance to reduce poverty in the developing world, an opportunity to increase the efficiency of biofuels produced in the South, which ultimately leads to less environmental degradation.

Brazilian ethanol is the world's most efficient biofuel, with the high efficiency resulting in a high degree of sustainability (earlier post). Its 'energy balance' is around 10 to 1, meaning that for each unit of energy put into the production of the fuel, you get the equivalent of 10 units of energy back. Corn ethanol or rapeseed biodiesel has an energy balance of between 1.2 and 1.5 to 1. (earlier post).

But even Brazil's ethanol production can be made more efficient. Experts predict new technologies might double the output per hectare (to a whopping 13,000 liters/ha) by 2030 (earlier post). With the help of Western technology transfers - involving such techniques as those for the production of cellulosic ethanol - the biomass residues from tropical ethanol/biodiesel production can be used to make more fuel. The total energy balance of the fuels would increase still further.

This increasing efficiency means less and less land will have to be devoted to the production of similar amounts of energy.

Finally, in a 'trickle down' strategy, the entire Global South stands to benefit from this kind of technology and knowledge driven 'biopact'. The most obvious scenario is that Brazil starts using advanced technologies (in cooperation with the US/EU) to make biofuel production extremely efficient. Brazil can then spread the technologies in a South-South exchange to other countries in Latin America, Africa and Asia. The idea is already being recognized and studied as a future way forward (earlier post on how to replicate Brazil's success in other developing countries).