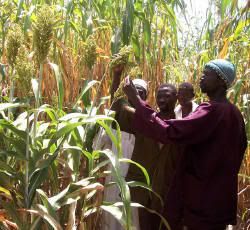 Growing demand for biofuels distilled from plants will revolutionize agriculture in both rich and poor countries, a top U.S. agriculture official said during a
trade mission to East Africa
[*.pdf or
intro
].
Michael Yost, chief of the U.S. foreign agriculture service,
said
African and American farmers both stood to profit from the growing demand for grains, sugars and oils that can be converted to ethanol or biodiesel, two clean burning substitutes for gasoline and normal diesel fuel.
"The advent of renewable energy is global," he said in an interview. "I think it could be the biggest paradigm shift we have seen in a long, long time in agriculture."
Kenya's minister for trade, Mukhisa Kituyi, said the economics and politics of global trade in cereals has been turned upside down by the rising price of oil, global warming and new interest in biofuels produced from grain:
biomass :: bioenergy :: biofuels :: energy :: sustainability :: ethanol :: biodiesel :: agriculture :: Africa ::

Farmers who produce grains, sugar and plant oils all stand to benefit from the growing demand for biofuels and the higher prices that will surely follow, said Yost, who serves as a top official in the U.S. Department of Agriculture.

"We've had discussion today with different African agribusinesses and they are looking for technology, they are looking for know-how," he said. "With the rising demand for renewable energy, I see it raising prices and raising interest, raising the investment potential around the world, everywhere."

Yost said in less than a year the U.S. government has been able to drop all trade-distorting subsidies for grains and oil seeds because of the increased demand for biofuels.



More information:


United States Department of Agriculture, Foreign Agricultural Service: Trade Mission to East Africa, February 2007.