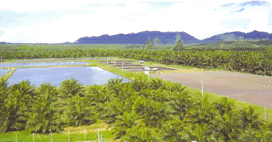 During the production of palm oil and tapioca (starch from cassava), a large stream of effluents from mills gets released into the environment. This liquid residue ('palm oil mill effluent', or 'POME') contains considerable quantities of biomass that are currently not used efficiently. Instead, the effluents are considered to be a waste stream that poses serious environmental management problems. In principle, the waste could be used as a biogas production substrate (
earlier post
).
In order to encourage tapioca and palm-oil processors to utilize the resource for energy production, Thailand's National Energy Policy Council has now
increased
its purchase price of electricity generated from biogas made from POME and cassava processing effluents, from 2 baht per kilowatt/hour to 2.30 baht:
biomass :: bioenergy :: biofuels :: energy :: sustainability :: palm oil :: cassava :: waste management :: biogas :: Thailand ::

The price increase is an incentive to invest in so-called 'very small power producer' (VSPP) projects, which are integrated into palm oil and cassava processing units, and which generate up to 10 megawatts of electricity.

Energy Minister Piyasvasti Amranand said many factories had the capability to utilise their waste water and produce biogas to generate electricity. The ministry wants to raise the amount of electricity generated this way from biogas to 30 MW by 2011. Currently, a mere five megawatts are produced in VSPP projects.

The incentive is also important in the context of liquid biofuel production. Both palm oil and cassava can be used as a feedstock for biodiesel and ethanol respectively. If harvesting and processing residues were used for additional energy production - biogas in VSPP projects being just one example - the overall energy balance of these biofuels can be strengthened considerably (earlier post).

Thailand produces some 685,000 tons of palm oil per year, and 22 million tons of cassava dedicated to tapioca production (on tapioca statistics, see the Thai Tapioca Development Council, on palm oil data, see FAOSTAT).