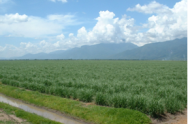 Kilombero Sugar Company has
received a grant
for 400 million shilling (US$312,000) from the
United States Agency for International Development
to help in ethanol production and the use of biomass for power generation to meet Tanzania's growing energy needs.
The US Ambassador to Tanzania, Michael Retzer, said during a ceremony at which an agreement to that effect was signed in Dar es Salaam yesterday that the grant would enable the company to explore the use of waste (bagasse) as a source of power.
"The power produced will support the plant's own production process and contribute some electricity to the national grid. In fact, through this agreement KSC will begin to produce ethanol for export", he explained.
He said that alternative sources of energy would play an important role in the future of power production in Tanzania and other parts of the world. The US has promised to accelerate the deployment of renewable fuels using diverse sources such as ethanol from corn, plant waste, wood chips, biodiesel, methanol and other alternative fuels, the envoy noted.
"This will have a real impact on the environment as the increase in renewable fuels could cut annual carbon dioxide emission by 10 per cent", he explained.
He however said that new technologies such as ethanol production from by product molasses waste and power production from sugar cane bagasse will create future of both environmental stewardship and economic growth:
biomass :: bioenergy :: biofuels :: energy :: sustainability :: sugarcane :: bagasse :: ethanol :: Tanzania ::


KSC managing director David Coates said the assistance would help them conduct a feasibility study whose findings would be used in evaluating the commercial viability of the technologies.

He said his firm was the largest sugar manufacturer in Tanzania and, like many other sugar mills in sub-Saharan Africa, relies on heavy fuel oil that is costly and inefficient to obtain power heat for its sugar production.

An American Company, New Energy, earlier this year said it was planning to produce biofuel from a 9,400-hectare sugarcane plantation in Morogoro Region (earlier post).

The biofuel would be used in running vehicles and other machines, the New Energy development consultant Robert Welch said, adding that they would invest USD 10 million in the project.

"We plan to produce 10 per cent of Tanzania`s demand for biofuel, which is currently imported and used for various purposes."

Biofuel derived from sugarcane is produced in large quantities in the Brazil", he pointed out, noting that New Energy's biofuel would cost 25 per cent less than imported fossil fuels.