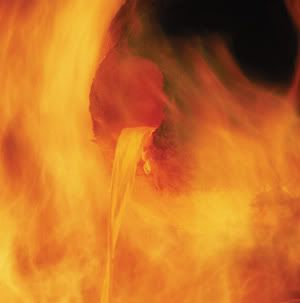 Given oil prices of around US$60 per barrel, biofuels have become competitive and, depending on the feedstocks used, some of the green fuels are even considerably cheaper to produce. This explains the feverish and huge investments in the sector. Announcements of the construction of new ethanol and biodiesel plants have almost become a daily affair.
But rising energy prices impact all major industrial sectors, including the energy-intensive steel industry. And to build a biofuel factory, you need lots of this material. South Africa's first major commercial maize ethanol plant which is being built by Ethanol Africa (
earlier post
), is
experiencing
the effects of this trend: the price of steel has inflated the construction costs of the Bothaville factory by 25 percent to almost 1 billion Rand (€106.7/US$140.2 million), a shareholder says.
This interesting detail reveals how the production costs of biofuels are ultimately linked to the price of fossil fuels. Because all the inputs needed to make biofuels (such as fertilisers, harvesting and processing equipment and indeed the factories themselves which are made largely from steel), have relied on oil, coal or natural gas as their primary energy source, somewhere during their manufacturing stage. Some have said that this is a weakness of the biofuels industry: they will always depend on fossil fuels as the primary energy in a chain of production.
But green energy advocates of course know that this does not have to be the case. And of all industries, precisely the steel industry proves the point: instead of using costly coal, oil and natural gas to make steel, it has now become commercially interesting to use biofuels instead. In short, you use biofuels to make the steel needed to build a biofuel production plant (or a steel manufacturing plant for that matter...). An EU funded project is taking the idea serious and is looking at 90 million hectares of land in Africa and Latin America to grow biomass crops that will be used as the primary energy source for the production of green steel. The rationale is not merely to reduce greenhouse gases from the energy-intensive steel industry. The rationale has become purely economic: tropical biomass is cheaper than coal and oil (
earlier post
):
biomass :: bioenergy :: biofuels :: energy :: sustainability :: energy prices :: steel :: ethanol :: South Africa ::

Moreover, to debunk the argument of those who say biofuels are always dependent on fossil fuels further, the obvious must be stated: the increases in the

initial

construction costs of the bioethanol plant are obviously

one-off

costs only. The return on the investment may occur a bit later because of the increased initial costs, but the difference will barely be noticeable. This is why the 25% cost increase has not deterred investors from proceeding with Ethanol Africa's scheme to roll out eight similar ethanol plants in the South Africa's maize belt.

Philip Bouwer, a director of Sterling Waterford and a 50 percent shareholder in Ethanol Africa, said yesterday that in an attempt to cap costs, the firm was re-evaluating its execution approach to the project. Ethanol Africa was considering transferring risk to a managing contractor instead of assuming all the risk itself.

The plant's higher costs were due to rises in steel prices and not contractor quotes, Bouwer said. Assuming an across-the-board cost increase of 25 percent, Ethanol Africa's eight plants will now cost 8.75 billion Rand, up from 7 billion Rand.

Ethanol Africa and Sterling Waterford denied reports implying that construction in Bothaville had stopped due to funding problems. The reports said the firm was assessing its funding options. According to Bouwer, Ethanol Africa was at a "very sensitive stage of negotiations" with strategic investors. Agreement was due by the end of the month.

Martin Jooste, a project manager for Ethanol Africa's roll-out, said the break in construction at the Bothaville plant was because of expected changes to the execution structure, and a decision on whether to opt for dry or wet milling.