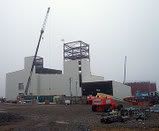 Hawaiian Electric Co.
(HECO) and BlueEarth Biofuels LLC
announced
that they will build a US$61/€46.4 million biodiesel refinery at Maui island's Waena power station site, with
Maui Electric Co.
(MECO) being the initial customer.
MECO's goal is to get all of the company's Maalaea utility power generators off petroleum. The BlueEarth plan calls for straight burning imported palm oil, but HECO will contribute all of its half of the profits to a nonprofit public trust that will encourage the growth of local fuel crops. Candidate crops include palm oil, jatropha, kukui or coconut, the oils of which will be transesterified into biodiesel. Instead of using methanol for the production of biodiesel, locally produced ethanol will be used.
Production of the biofuel should begin in 2009. The first phase output target is 40 million gallons (151 million liters) of biodiesel per year. MECO consumed about 73 million gallons (276 million liters) last year.
Eventually, by phase three, the Waena refinery could produce 120 million gallons (454 million liters) in 2011, and there are plans to use it at Hawaiian Electric plants on Oahu and Hawaiian Electric Light plants on the Big Island.
Aside from general environmental, economic and energy security concerns, at least three factors pushed HECO and MECO towards their decision to use biofuels instead of fossil fuels:
biomass :: bioenergy :: biofuels :: energy :: sustainability :: palm oil :: biodiesel :: ethanol :: Hawaii ::

Firstly, in 2000, the state Department of Health fined MECO for Clean Air Act violations from two of its large 12.5 MW diesel generators at Maalaea. The problem was opacity (smoke) at startup and shutdown, and the use of a small amount of biodiesel solved it.

Secondly, the state renewable energy policy that mandates electric utilities to get at least 20 percent of their power from renewables by 2020.

Finaly, a condition on the Waena power station lot requires at least half of its allowable 240 megawatts of capacity to come from renewable sources.


Current power generation on Maui from all sources – Maui Electric's Kahului and Maalaea plants, Hawaiian Commercial & Sugar Co.'s Puunene Mill, the Kaheawa Wind and several small co-generation operators – is in the neighborhood of 240 MW. There was no requirement to start out with renewables at Waena, and MECO has been putting off developing the site to avoid the high capital costs that will include site preparation as well as installation of infrastructure.

The initial investment in a combined cycle petroleum-fueled unit – like the latest units at Maalaea – would be several hundred million dollars.

When the county approved zoning for the Waena site, there were no specific renewable sources named, but solar was one possibility. Reinhardt believes using 15 acres of the 60-acre lot for a biodiesel refinery comes within the conditions, although MECO is not adding any capacity. The lot, still in cane, is across Pulehu Road from the Central Maui Landfill.



Palm oil critics


Palm oil has its own critics. Commercial palm oil plantations were encouraged after World War II by the United Nations to provide edible fats for poor people in the tropics. This was very successful.

The palm oil plantations also became a source of oil for margarine makers and commercial bakeries in rich countries, until health fears over transfats reduced that market. Meanwhile, the search for alternatives to petroleum led not only to conversion of palm oil grown for food to oil for fuel, but to rapid expansion of palm plantations into virgin rainforests in South Pacific and Southeast Asian countries.

Reinhardt said he is aware of that criticism, and the HECO-BlueEarth joint venture will avoid obtaining oil from sources "that ravage the forest."

The refinery is expected to require about 100 construction workers to build and about 40 workers to operate.

Reinhardt said the refinery lease, fuel agreement and generators at Waena will require approval of the state Public Utilities Commission. He said he expects the applications for the developments will be filed "soon" for start of the facility by 2009.

It will require "minimal" amounts of water and among its residual products will be ethylene. Ethylene is inflammable, and although it could not be used in diesel generators, Reinhardt said there might be enough to run a small generator.



Local ethanol for biodiesel production


The transesterification of vegetable oils can be achieved by using ethanol instead of methanol, and the hope is that local producers can supply that. HC&S has been considering using its molasses as feedstock for an ethanol plant, but no decision about that has been made.

The state now requires ethanol to be blended into gasoline. The intention was to encourage a locally-produced, renewable fuel, but so far all of the ethanol has to be imported. The state imports most of its energy, with geothermal on the Big Island, bagasse on Maui and wind turbines at several sites the primary alternative sources of electricity in the islands.

Maui is also home of the country's first biodiesel plant using waste cooking oil, the Pacific Biodiesel facility headed by diesel engineer Bob King, who developed the technology for utilizing used cooking oil. Other biodiesel makers, including BlueEarth, rely on oil that is not contaminated by food wastes.

Reinhardt said the decision to go with BlueEarth was not a reflection on Pacific Biodiesel. "I can't say enough about Pacific Biodiesel. This is not to compete with them," he said. Pacific Biodiesel has been building smaller plants than BlueEarth, on the order of 5 million gallons output. MECO has used Pacific Biodiesel fuel to help solve a smoke problem at Maalaea.

Bob Wellington, a co-managing partner of BlueEarth, said, "BlueEarth will work diligently with other local biodiesel and ethanol producers to encourage increased local biofuels production, greater efficiency and lower pricing.

"Potentially, shared raw materials purchasing, joint land use, and using locally produced ethanol and methanol in our own process are a few of the ways we can further stimulate the local biofuels industry. We intend this to be a win-win for Maui, Hawaii and our company."

The joint venture between BlueEarth and HECO, BlueEarth Maui Biofuels LLC, is seeking legislative approval to raise $59 million in special purpose revenue bonds. Senate Bill 1718 to authorize the bonds has passed second reading and is pending in the Senate Ways and Means Committee, chaired by Maui Sen. Roz Baker.

Revenues bonds would benefit the business by piggybacking on the state's lower borrowing costs, but the company is obligated to pay off the bond from its revenues. The amount of anticipated profit was not revealed, but HECO's share will go into a Biofuels Public Trust that will fund development of Hawaii's biocrop agricultural infrastructure. "HECO is willing to give up our profits in this bold venture because, in the long run, it is good for our company and good for Hawaii to promote clean, green, local renewable energy here," HECO President Mike May said.

Although MECO's participation will be as a buyer, Reinhardt said there would be "little or no" impact on customer rates, at least initially. But as MECO is able to rely on biodiesel, electricity rates will be less influenced by the price of a barrel of oil and more by the price for the alternative fuel. MECO will lease the 15 acres to BlueEarth at fair market rates. Since the cost of Waena is built into Maui's electric rate base, the rental income will exert a small downward effect when the PUC calculates consumer rates.

Maez said the plant will seek to hire on Maui, with the initial facility expected to require 40 workers and an expanded plant to require up to 100 permanent positions. "We want Maui people to work at the plant," he said.