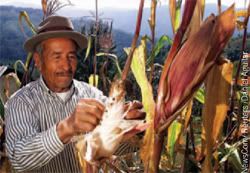 The tortilla crisis in Mexico, which grabbed the international headlines, was blamed on price rises caused by the the burgeoning US ethanol industry which turned large quantities of maize into biofuel. Now, mainstream media are finally
realizing
that the simple law of supply and demand works its usual way.
Farmers throughout Latin America - from Mexico and Brazil to Argentina and Ecuador - feel as if they have just won the jackpot. Some of them had ceased production years ago, because the (non tariff) trade barriers and US subsidies were too high to compete with their American counterparts. But now, they are entering the market again and are reaping unprecedented profits. If the US were to reduce its barriers, their fortune would grow bigger still.
Since 1994, Mexico's rural sector has lost an estimated 1.6 million jobs, prompting many farmers to seek work in the US. But farmer Rogelio Zacaula, 66, says many of his fellow maize farmers are now sticking around or are even coming back now that the agricultural sector is set to revive in a spectacular manner because of the biofuels opportunity. Their increased incomes - which have
quadrupled
in one season - are injected back into the economy, and offset the rise in tortilla prices. Meanwhile, biofuels produced in Mexico provide new jobs and deliver cheaper fuel to the country's consumers. In the long-run, the total economic balance of the biofuels phenomenon is positive, even for an oil exporting country like Mexico.
The price of maize had languished around $2 a bushel for years before the ethanol boom caused prices to soar, reaching $4.04 a bushel this week. Corn prices should reach new highs over the next five years, according to Keith Collins, chief economist for the U.S. Department of Agriculture.
In the United States, 111 ethanol refineries are operating and 78 are under construction, according to the industry's Renewable Fuels Association. Concerned about global climate change and dependence on Middle East oil, US and European leaders have set high targets for increasing the use of biofuels.
Collins predicts American farmers will need to plant 90 million acres of maize by 2010 - nearly 10 million more than now - just to meet US demand. This is too tall an order, meaning that world markets will need to turn to maize-producing regions such as Latin America and Africa to fill the gap if US exports drop.
Brazil and Argentina, the western hemisphere's biggest maize exporters after the US, are expecting near-record harvests in 2007:
biomass :: bioenergy :: biofuels :: energy :: sustainability :: ethanol :: corn :: maize :: rural development :: Latin America ::

Meanwhile, Mexico is also in the top ten. Zacaula grows his newly valuable crop in the shadow of the Orizaba volcano, and he's a man in a good mood.

"I have never seen prices like this," said Mr Zacaula, 66, who has been growing maize since he was ten. "We suffered for so many years, years in which no-one even wanted to buy our crop - until now."

"They see that there are opportunities here," said Mr Zacaula, a father of seven whose family cultivates just over 100 acres. He has invested his profits in a cement home, a pickup truck and a small herd of cattle.

Mr Zacaula belongs to a group of 6,000 farmers who have signed a contract with the government to sell their maize for a fixed price. In exchange, they are guaranteed a market, plus discounts on fertiliser and seed, and the use of tractors and other equipment.

Mexican farmers who now plant maize on 21 million acres are proposing expanding that by 4.3 million acres this year alone. They want the government to fund the irrigation of another 1.9 million acres.

Referring to the healthy profits, Carlos Salazar of the National Confederation of Mexican Corn Growers said: "Maybe the government will finally pay attention to us now that we're all dressed up pretty."

Growers hope the ethanol phenomenon will cushion what they feared would be a devastating blow with the full opening of borders to US exports of maize and beans in 2008 under the North American Free Trade Agreement.