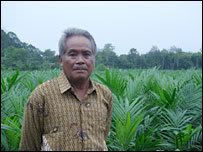 Indonesia's push for biofuels illustrates some of the contradictions between economic growth and 'sustainable development'. The country aims to set aside 5 million hectares of land for biofuel production, which is expected to bring 3 to 4 million badly needed jobs to the rural poor.
The
BBC offers an example
of how biofuel production in Indonesia contributes to poverty alleviation, in a very straightforward way:
Life is a lot sweeter for Mangat Nuan these days. "This used to be my land," he said, waving an arm at the rows of oil palms. "But I rented it to a plantation company a little while ago. It was a good price - all the landowners round here did the same."

Mangat's plot in central Kalimantan now forms part of a new oil palm plantation, which covers 15,000 hectares of land, some of it former forest, according to a local NGO. The arrival of the plantation may have changed the landscape, but Mangat says it has also changed the lives of the people who live here.

"Life before was difficult," he said. "I couldn't even feed my family, not to mention send my kids to school. After the plantation took over, more people came and suddenly we had roads and schools. We've also opened a small shop, so it's improved our income significantly."
Clearly, the biofuels opportunity is enormous: it can bring rural development, poverty alleviation, and reduce the stark social inequalities which are so typical for the country. As Alhilal Hamdi, head of Indonesia's new Biofuels Development Board, says, global demand for alternative fuels is growing rapidly, and now is the time for his country to tap into it. This is of course entirely legitimate: developing countries have the obvious right to pursue economic growth and prosperity, without being
dictated by the West how to develop
.
Rich countries often focus one-sidedly on the environmental consequences of this growth - an equally legitimate exercise, albeit a less straightforward one. After all, it is precisely the West which has benefitted from destroying its own environment long ago in its push for industrialisation and modernisation. What's more, it not only destroyed its own environment, it colonized three quarters of the planet's people, to destroy
theirs
and to profit from their natural resources. This past should not be forgotten; its traces continue to fuel the debate on global economic justice. Europeans' and Americans' wealth is largely based on the very unsustainable development paradigm they now want others to abandon.
But ironically, this simplistic, progressivist ideology of 'economic growth' has become so pervasive and universal, that developing countries are now using it in its most basic form to negotiate with the powerful on matters regarding the environment.
Rachmat Witoelar, Indonesia's Environment Minister, shows how this simple but hard logic works when he repeated a proposal put forward by developing countries to halt deforestation.
Speaking to Reuters
, he distributed responsibilities in the most appropriate and pragmatic way:
if rich countries want developing nations to preserve their forests, they should not talk about it, they should pay for it.
This crude but effective discursive position means that it is up to the North to decide whether rainforests in the tropics are worth protecting. This strategy - called 'compensated reduction' (
earlier post
) - is based on economic realism, not on environmentalist idealism. Witoelar:
"Preserving our forests means we can't exploit them for our economic benefits. We can't build roads or mines [or grow oil palms]. But we make an important contribution to the world by providing oxygen. Therefore countries like Indonesia and Brazil should be compensated by developed countries for preserving their resources."

The proposal will be tabled at a U.N. conference on climate change to be held in the Indonesian resort island of Bali in December. But Witoelar added that "any change must benefit developing countries. This will be a discussion with developing countries and rich countries having divergent interests."
Philosophical or theoretical discussions about the fact that there doesn't necessarily have to be a conflict between economic development (in the South) and sustainability (as desired by the West) will not change the terms of this rather simple debate. What's more, such calls for unnecessary nuance often camouflage a lack of courage to recognize the stark realities of poverty in the developing world, resulting from a particular economic world order, and its effect on the use of natural resources. :
biomass :: bioenergy :: biofuels :: energy :: sustainability :: development economics :: land-use :: deforestation :: compensated reduction :: self-determination :: poverty alleviation :: rural development :: Indonesia ::

If poor farmers like Mangat Nuan can increase their incomes substantially by razing down a plot of forest and by planting oil palms, or by leasing their land to biofuel companies who offer high prices today and who sell fuels to the West, then they will do so.

It is that simple.

And who are we to blame them? We buy their products every single day, we exploited their natural resources in the past, and we introduced an unsustainable ideology of modernity into their society which they fully embrace - in a more honest and less hypocritical way perhaps than we do. If we don't like what they're doing, we should compensate these farmers.

The words of Joan Martinez-Allier, environmental economist and author of The Environmentalism of the Poor, come to mind here. When complex development issues are reduced to their bare essence, one must conclude that:

"we obviously can't be against economic growth if it brings prosperity to the poor. From which authority do wealthy countries think to derive the right to dictate the poor how to use their natural resources, how much CO2 they can emit, what to do with their forests, which land-use patterns they should promote or even whether they should be allowed to use nuclear energy? [...]

It is the wealthy countries who should ask themselves some hard questions, not the poor countries. The industrialised world must ask whether it needs to consume more energy and more natural resources. The wealthy countries must ask themselves whether they haven't achieved enough growth. Not the poor countries. If there is any group of people on this planet entitled to use the model of 'economic growth' for its development, then it is the poor in the developing world. Perhaps it is the only group." [Translated from a Dutch interview, see reference below.]

NGOs, environmentalists and conservationists from the West play an important role in pointing a finger at the environmental destruction that goes with development in the South. But they should go beyond their at times gratuituous campaigns ('stop killing orang utans') and seriously ask whether their approach doesn't reflect a subconscious neocolonialist, patronizing attitude. They could for example focus on how they can reduce their own societies' environmental footprints first, before denying some of the poorest in this world the opportunity to prosper. If we want to achieve the ultimate goal we're all aiming for - the preservation of unique ecosystems and the creation of a more sustainable and just economic model - we should be more frank and let the harsh economic realities faced by the poor in the South dominate our agenda.

At the Biopact, we consciously put the evident right to economic, social and political self-determination of people from the South first, and the universalist concerns of the wealthy West about the global environment last (even if the developing countries in question are promoting an economic model we have come to abhor). We understand that such a binary opposition is too simplistic, but we utilize it for purely 'pedagogic' and discursive reasons. A dose of antagonism can work wonders in a debate that is often dominated by one party.

Contrary to what it claims to be, 'global' and 'universal' environmentalism is still too often an ethnocentric affair, working directly against the immediate interests of the developing world. This is why we systematically try to 'spectralise' the one-sided view of many an environmentalist from the West by bringing the sharp realities of poverty in the South into view.

More information:
BBCNews: Indonesia's push for biofuels - Feb. 1, 2007.

Jonathan Krieckhaus, Dictating Development: How Europe Shaped the Global Periphery, Pittsburgh: University of Pittsburgh Press, 2006.

AlertNet (Reuters): INTERVIEW-Indonesia wants countries paid to keep forests - Jan. 30, 2007.

Joan Martinez-Allier, De planeet groeit niet mee met de economie, [*Dutch], MO Magazine, February 2007 issue.