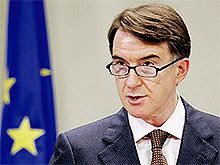 The EU's
Trade Commissioner
Peter Mandelson has called for a 0%-tariff deal on environmentally friendly technologies and green services as part of the WTO's Doha Round, saying that such an agreement could help provide a global solution to climate change.
As both the global-warming and energy security issues heat up, EU policymakers are under increasing pressure to produce measures that can solve the problems without placing an excessive burden on the businesses that drive Europe's economy.
The EU's Kyoto commitment to cut its CO2 emissions by 8% compared with 1990 levels before 2012 – notably through the establishment of a carbon emissions-trading scheme – has been strongly criticised by European businesses, which are now obliged to clean up their act or pay high prices for the right to emit greenhouse gases.
And because many countries – including the United States and China, the world's two largest polluters – have not committed to the Kyoto Protocol, the EU is accused of putting European industry at a competitive disadvantage with those that continue to pollute freely.
However, in his recent, wide-ranging speech
"Energy security and climate change – what role for trade policy?"
, Trade Commissioner Peter Mandelson said that a WTO-wide deal eliminating all tariffs on trade in green technologies and energy-saving equipment would be the key to finding a business-friendly global solution to both climate change and energy security:
"An important hidden imperative behind Kyoto – and the successor to Kyoto we now need to negotiate - is the creation of an open global market in environmental technologies and in investment in green industrial change."
Mandelson insists both climate and energy security require international solutions:
"Countries cannot resolve either of these issues acting alone. The problems caused by energy supply and climate change transcend national borders Individually the countries of Europe are all but powerless to affect the global debate on energy security or climate change. Together we have the weight to shape the debate; the weight to bring others to the table. One of the reasons why the European Union is indispensable for Europe in the global age is precisely because without it – or when it is divided against itself – we suffer a political power cut. That's another blackout we cannot afford."



Scrapping tariffs on green products would foster their development by making them more easily available to all nations, he said, adding that such a pact would also create opportunities for European industries. The EU is currently a world leader in alternative energy technologies, such as solar panels, wind turbines and biomass power plants:
biomass :: bioenergy :: biofuels :: energy :: sustainability :: climate change :: green technologies :: renewables :: environmental goods :: Doha :: WTO :: EU ::

Mandelson's remarks come after Enterprise and Industry Commissioner Günter Verheugen suggested that EU members should be allowed to impose a 'green tax' on imports from countries that are not part of the Kyoto Protocol. According to Verheugen, this would cancel the competitive advantage that foreign companies are gaining over the EU from not implementing costly emission-reduction schemes. But Mandelson is sceptical.

Both proposals have their limits.

While doubts remain over the legality, practicality and economic wisdom of imposing "border tax adjustments", nor would negotiating a global 0% tariff pact on green goods be an easy task.

It remains unclear how such an agreement would fit in with the WTO prohibition to discriminate between "like products" or close substitutes.

Furthermore, when the Doha Round was suspended in July 2006, ministers were still very much divided over how to define which products the concept of "environmental goods and services" (EGS) should cover.

The main concern is that countries could use the concept to protect their markets from imports of alternative technologies or to import at a lower cost products that have multiple uses, such as pipes, which could serve non-environmental purposes.

Differences also remain over how to deal with the relativity of environmentally friendly products, especially in the context of changing technology. The concern is that, if tariffs are fully eliminated on relatively green products, such as natural gas, even cleaner technologies that are already available (or become so in the future) will lose the possibility of enjoying any special trade advantages.

"I think there is a role for trade policy here," said Trade Commissioner Peter Mandelson in a speech on climate change and energy security on 9 February 2007. "At first sight, trade is part of the problem rather than the solution, since trade promotes economic growth and transport using carbon-based fuels is an inherent part of modern trade. An important hidden imperative behind Kyoto – and the successor to Kyoto we now need to negotiate – is the creation of an open global market in environmental technologies and an investment in green industrial change."

He dismissed the idea of imposing punitive measures on countries that are not taking action on climate change, saying: "I have doubts about a Kyoto tariff. All the debates over whether such a tariff would be legal, or economically sensible or even practical – are important but secondary. A Kyoto tariff gets the international politics of climate change wrong. The climate crisis requires that we build international consensus for radical change. That we build a global coalition. It's ultimately more productive to encourage clean trade than to try and punish dirty trade. We will never bully the non-signatories to Kyoto into being virtuous – it is counterproductive to try."

Enterprise and Industry Commissioner Günter Verheugen had, in a letter to Commission President José Manuel Barroso, defended the idea of a Kyoto tax, saying that if Europe remained alone in cutting emissions, there was a risk that companies could shift their production where standards are more lax. He said that "border tax adjustments" for developed countries that have yet to implement the Kyoto Treaty could balance out such effects.

French Prime Minister Dominique de Villepin is also a staunch supporter of a Kyoto tax. He has announced that the French Government would "make concrete proposals in that direction in the first quarter of 2007", adding: "Europe has to use all its weight to stand up to environmental dumping."



More information:


Peter Mandelson, EU Trade Commissioner: Energy security and climate change – what role for trade policy? Conference organised by Confederation of Norwegian Enterprise and EC Delegation in Norway at the Oslo Military Society, Oslo, Norway, Feb. 9, 2007.
Forbes: EU's Mandelson says energy supply, climate issues require global solutions - Feb. 13, 2007.
Euractiv: Mandelson wants free trade in 'green' goods - Feb. 13, 2007.