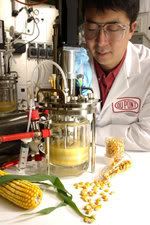 Even though the Biopact aims to help present and promote the role of the developing world in the nascent bioeconomy, the advances made by multinationals on this front will to a large extent determine what this green economy will look like and which products are set to dominate the market.
DuPont is one such company, investing massively in bioproducts related research. It has now
clarified
some of its commercialisation strategies at an alternative energy conference where it shed a light on its work on biobutanol (
earlier post
and
here
) and cellulosic ethanol.
Dupont Biofuels vice-president and General Manager John Ranieri told investors at the Piper Jaffray Alternative Energy Symposium, which focused on industry and investment trends in solar, cleantech and biofuels, that the bioeconomy offers global opportunities, and that cellulosic ethanol and next generation biofuels, such as biobutanol, will be viable replacements for gasoline transportation fuels.
DuPont outlined a three-part strategy to commercialise new biofuel products and to increase their efficiency:
improving existing ethanol production through differentiated agricultural seed products and crop protection chemicals
developing and supplying new technologies to allow conversion of cellulose to biofuels
developing and supplying next generation biofuels such a biobutanol with improved performance
The multinational will link its R&D efforts to commercialisation in the following way:
biomass :: bioenergy :: biofuels :: energy :: sustainability :: biotechnology :: plant breeding :: bioconversion :: cellulosic :: ethanol :: biobutanol ::

1. Improve Existing Ethanol Production: DuPont had more than $300 million in revenues in 2006 and growing at greater than 20 percent per year from seed and crop protection solutions that increase yield per acre and enhance ethanol yield of grain through biotechnology. For the ethanol industry, DuPont subsidiary Pioneer Hi-Bred International Inc. offers more than 180 seed hybrids that are marketed through its IndustrySelect(R) program, bringing specialized grain traits that improve the efficiency of ethanol production.

2. Technology to Produce Cellulosic Biofuels: DuPont and the U.S. Department of Energy are jointly funding a research program to develop technology to convert corn stover into ethanol. The technology was licensed to Broin Companies, the nation's largest dry mill ethanol producer, in October 2006. A 25 million gallon per year commercial-scale plant in Emmetsburg, Iowa, will begin production of cellulosic ethanol in the next four to six years. Ranieri outlined how the Integrated BioRefinery technology package will significantly increase the amount of ethanol per acre achievable by using corn grain and stover on the same amount of land.

3. Biobutanol Partnership with BP and Advanced Biofuels Pipeline: DuPont's partnership with BP to develop biobutanol is based on its strategy to bring advanced biofuels to market to expand the use of biofuels in gasoline. Biobutanol will be the first product available and offers improved performance. It enhances ethanol-gasoline blends by lowering the vapor pressure when co-blended with these fuels; it resolves fuel stability issues in that biobutanol-gasoline blends can be distributed via the existing fuel supply infrastructure; it improves blend flexibility allowing higher biofuels blends with gasoline; and it improves fuel efficiency (better miles per gallon) compared to incumbent biofuels. Fleet testing of biobutanol has begun in the United States and the European Union. Biobutanol market testing is targeted for later this year in the United Kingdom. Additional global capacity will be introduced as the technology advances and market conditions dictate.