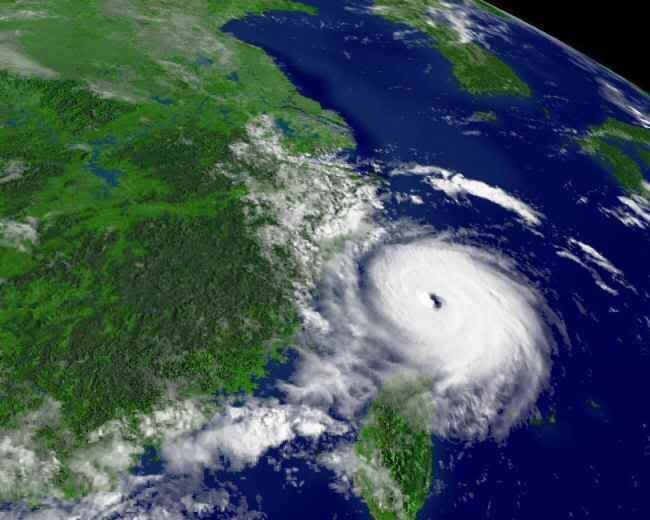 Only recently has China begun to publicly recognize the serious threats it faces from global warming (
earlier post
). In a new report, the China Meteorological Administration now says climate change is heating up the People's Republic faster than the rest of the world, and extreme weather such as heavy rainfalls, typhoons, drought and desertification is on the rise.
The agency's report, carried on the official
Xinhua News Agency
, said China's surface temperature had risen 0.22 degrees every 10 years for the past 50 years, which was higher than the increases seen globally and in the Northern Hemisphere as a whole.
It also predicted that temperatures would rise at a faster rate in the future. In comparison to average temperatures recorded from 1961 to 1990, China's average temperatures would increase 1.3 to 2.1 degrees by 2020, 1.5 to 2.8 degrees by 2030, 2.3 to 3.3 degrees by 2050 and 3.9 to 6 degrees by 2100, it forecast.
The report further warned that:
Rising heat would cause the glaciers in north-western China to shrink 27 per cent by 2050.
Precipitation countrywide would increase by 2 to 3 per cent by 2020, by 5 to 7 per cent by 2050 and by 11 to 17 per cent by 2100, it added.
Typhoons would become larger and more powerful, the weather agency said, and the chances that eastern China would experience extreme rainfall would be four to six times higher in the next four to five years in comparison with the 1980s and '90s.
Sea levels would also rise by 12 to 50 centimetres by 2050, it predicted.
While some areas of China could suffer under heavy rainfall and storms, arid areas would grow and more land would turn to desert and increase the country's sandstorms.
Qin Dahe, director of the China Meteorological Administration, said in a recent press conference that meteorological disasters caused direct economic losses of 200 to 300 billion yuan (€20 to 30 billion/US$25 to 37.5 billion) in China annually, which was equivalent to two to five percent of China's gross domestic product:
biomass :: bioenergy :: biofuels :: energy :: sustainability :: climate change :: global warming :: greenhouse gases :: coal :: typhoon :: sea level :: glaciers :: drought :: desertification :: China ::

Greenhouse gas emissions, and carbon dioxide discharges in particular, are widely considered to be the prime factor in global warming. Unlike the United States, the Chinese government has backed the UN-brokered Kyoto treaty, and committed itself to improving its energy efficiency by setting the goal of cutting its energy consumption by 20 percent per unit of GDP in the period from 2006 to 2010, Qin noted.

However, China has failed to meet similar ambitious targets by wide margins in the past. Moreover, the country is exempt from the Kyoto Protocol's mandated greenhouse gas emission limits because it qualifies as a 'developing country'.

China did achieve reductions in emissions of some 800 million tons of coal equivalent from 1991 to 2005. The country's forests, grasslands and natural reserves have helped absorb another 3.06 billion tons, Qin added.


The warmer trend noted in the report seemed to be showing itself during the Chinese New Year, which began Sunday. This year's Lunar New Year's festival, which is being celebrated this week, is the warmest since record-keeping began. Temperatures generally at this time of year lie around the freezing point, but the weather in Beijing Tuesday was at a springlike 15 degrees.

Since 1987, China has experienced 19 warm winters, and normal cold weather returned only in 2004 and 2005.

China is not only heavily impacted by global warming but is also helping to cause it. The most populous country in the world is the world's largest coal consumer and was predicted to overtake the United States in 2009 as the globe's largest producer of carbon dioxide, a greenhouse gas, which causes global warming.




Image

: Typhoon Saomai, a Super Typhoon, classed as Category Five for a while, then downgraded to a Cat 4, was the fifth large storm to hit China in 2006, and the strongest to hit the country in 50 years. With wind surges of more than 216 km (135 miles) per hour, the deadly storm caused more than a million people to move out of its path. Credit: NOAA.