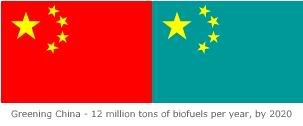 China is moving rapidly on the front of bioenergy, with important targets for green energy included in the People's Republic's new Five-Year-Plan (
earlier post
). The Chinese government also sees investments in the sector as a way to boost the rural economy and to ease the growing social inequalities between wealthy urbanites and poor farmers (
earlier post
). Small farmers are already beginning to reap some of the benefits of China's transition to biofuels (
earlier post
).
Thanks to a path-breaking effort to develop fuels and energy from woody and oil bearing crops, the country has
announced
it will now plant biomass and biofuel forests on a very large scale to fuel its future. By 2010, China plans to develop an area the size of England, or 13 million hectares, with
Jatropha curcas
trees from which both liquid and solid biofuels can be extracted as a source of clean energy, according to the
State Forestry Administration
(SFA).
Jatropha, also known as the physic nut, is currently grown on around 2 million hectares across the country and produces non-edible oil for making candles and soap. Now, it will be the main ingredient in the production of biodiesel. The 13-million-hectare forest mostly spread over southern China is expected to produce nearly 6 million tons of biodiesel every year. Vehicles account for a third of all oil use in the country.
Green electricity
The jatropha trees can also provide wood fuel for a power plant with an installed capacity of 12 million kilowatts about two-thirds the capacity of the Three Gorges Dam project, the world's biggest. This amount of bio-energy will account for 30 percent of the country's renewable energy by 2010, according to the SFA.
"This plan will not only help the country enlarge its green coverage (currently at about 130 million hectares) but also meet increasing demand for energy. And most importantly, it provides clean energy to meet the country's target of sustainable development."

-- Cao Qingyao, spokesman for China's State Forestry Administration.
Currently, the country relies mainly on fossil fuels for energy production. To ease the pressure and reduce pollution and greenhouse gas emissions, a renewable energy target has been set: By 2010, it will make up 10 percent of the energy structure; and 16 percent by 2020:
bioenergy :: biofuels :: energy :: sustainability :: jatropha :: biodiesel :: forest :: biomass :: electricity :: China ::

China National Petroleum Corporation, one of the country's three energy giants, has started collaboration with the SFA to develop biofuel (earlier post).

Jiang Jiemin, head of the corporation, said last month that the group would, by 2010, build a commercial production base with an annual capacity of 200,000 tons of biodiesel by planting more than 400,000 hectares of trees.

China's targets on how much biofuels the country will produce, remain somewhat unclear. Spokespersons for different ministerial departments often contradict each other. The latest figure was given by Shi Yanquan, deputy director of the Ministry of Agriculture's department of science, technology and education, and it stands at replacing 10 million tons of oil by 2020 (earlier post).

Earlier, officials announced that China could save 100 million tons of coal by utilizing solid biomass waste streams from agriculture (earlier post).