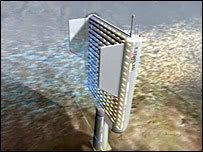 Carbon capture, in the form of "artificial trees", is one idea explored in the BBC Two documentary
Five Ways To Save The World
. But could these extraordinary biomimetic machines help to mitigate our excessive burning of fossil fuels and its potentially catastrophic consequence, global warming? Or would we be better off using real trees in a carbon negative energy system? Let us compare the two ideas.
In 2006, more than 29 billion tonnes of carbon dioxide were pumped into the atmosphere. And 80% of the world's energy supply still relies on fossil fuels. German geo-physicist
professor Klaus Lackner
of Columbia University's Department of Earth and Environmental Engineering, thinks he may have found a way of tackling our current excessive use of fossil fuels.
He has designed a "synthetic tree", a construction that mimics the function of natural trees whereby leaves pull carbon dioxide (CO2) out of the air as it flows over them. The CO2 removed from the atmosphere in this way, he believes, could be stored deep underground both safely and permanently, by using carbon capture and storage (CCS) techniques.
Professor Lackner's trees are seen as the most feasible out of four other 'geo-engineering' strategies proposed by some of the world's top scientist. These other options are (1) building a
giant space mirror
to reflect enough of the sun's rays away from the Earth, (2) seeding the oceans with fertilizer so
algae blooms
remove CO2 from the atmosphere, (3) building ocean-going vessels that
seed clouds with salt particles
from sea water so that they reflect more sunlight back into space and (4) replicating the cooling effects of a giant volcanic eruption by
filling the planet's higher atmosphere with sulphur
, delivered by rockets. Most of these options are either very expensive or highly risky and might have irreversibly damaging effects on the environment.
Even though professor Lackner only advocates the use of his artificial trees as a way of giving the world some time to come up with alternative energy sources, how effective would they be in offsetting greenhouse emissions? And wouldn't it be more efficient to use a "carbon-negative" energy system rightaway?
Synthetic leaves
"Just like a real tree, an artificial tree would have a structure to hold it up - the equivalent of a trunk, probably a pillar," explains the professor. "You would find the equivalent of branches which hold up the leaves" [in
this video
, Professor Lackner demonstrates how an artificial tree would work].
Unlike in a real tree, he explains, where the leaves are spread out because they have to see sunshine for the purpose of photosynthesis, the leaves on an artificial tree could be packed much more tightly. "That is one of the reasons why an artificial tree can collect much more CO2 than a natural tree," he argues:
biomass :: bioenergy :: biofuels :: energy :: sustainability :: climate change :: carbon dioxide :: geo-engineering :: biomimetics :: trees :: carbon capture and storage ::

Professor Lackner's tree is based on the fact that if you blow air through a solution of sodium hydroxide, the CO2 contained in it will be absorbed, producing a liquid solution of sodium carbonate. It is that liquid solution that the professor believes could be piped away, and the time at which the CO2 could be recovered as a concentrated gas in preparation for its final storage.

Lackner's vision is to have thousands of artificial trees and estimates that every single one would remove 90,000 tonnes of carbon dioxide a year - the equivalent emissions of 20,000 cars. But even if this is possible, could the CO2 collected be stored away forever?



Locking it up


Using existing oil drilling technology, channels thousands of metres deep would be bored into the sea bed. The carbon dioxide gas would be injected into it, permeating the surrounding porous rock. At this depth and low temperature, the carbon dioxide is denser than water, locking it in place. "It cannot rise from there to the ocean floor," says Professor Lackner, "so it puts it away literally for millions of years."

This type of carbon capture and storage techniques are currently being developed, tested and monitored in real experiments. Investments in CCS come from the coal, oil and gas industries, as they are trying to find a way of cleaning up their act.



Bio-Energy with Carbon Storage


Professor Lackner's artificial trees are designed to buy us time. They do not intervene in the way we use energy. In fact, they are proposed with the specific purpose that we can keep on using fossil fuels, until we have developed more climate friendly energy technologies. Lackner's trees are not an energy source in themselves.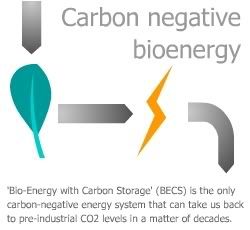 An alternative that resembles the geo-physicist's system but that actually prodives useable energy while capturing carbon dioxide, is called Bio-Energy with Carbon Storage (BECS). The idea is similar, in that CO2 is removed from the atmosphere and then stored away underground using CCS techniques. The major difference though is that BECS relies on nature's very own wonderful carbon sinks: ordinary trees and fast growing energy crops.

Unlike Lackner's biomimetic machines, real trees are an energy source. Their biomass can be used in coal, oil and gas power plants instead of the fossil fuels. This is what makes BECS so powerful: it replaces fossil fuels while it captures and stores carbon dioxide.

Unlike other renewable energy systems, such as solar, wind or hydropower, BECS is not carbon-neutral. It is carbon

negative

.

BECS was imagined by scientists several years ago against the background of the so-called 'Abrupt Climate Change' scenario. If global warming were to prove much more dramatic than expected, BECS would be implemented on a rapid, global scale. The system can take us back to pre-industrial CO2-levels within a few decades, while providing energy with which to keep powering our societies.

Meanwhile, BECS is becoming an ever more feasible geo-engineering option because of the confluence of several factors: (1) biomass grown sustainably in the tropics and the subtropics has become cheaper than today's costly fossil fuels, even after accounting for the transport costs involved in trading the green fuels globally; so it has become commercially interesting to invest in plantations that grow solid biofuels; (2) the green fuels can be burned in today's existing power plants (which generate the bulk of the world's GHG emissions), (3) given that rapidly developing countries like China and India have enormous energy needs, which they are trying to meet by investing massively in the construction of new coal-fired power plants, they could switch to using solid biomass without too much pain, thus 'leapfrogging' straight towards a greener economy; and (4) carbon capture and storage techniques are becoming a real option to lock up carbon for thousands of years.



Conclusion


Professor Lackner's synthetic trees have the advantage that their capacity to capture CO2 is far greater than the natural variant that inspired them.

But using them would not provide an incentive to lessen our reliance on fossil fuels. In fact, the machines could result in the dramatic opposite - an attitude of negligence, based on the idea that we can keep polluting because our artificial trees are doing the hard part for us.

Moreover, artificial trees are a very costly option compared to BECS. Bio-Energy with Carbon Storage pays itself back, because it delivers fuel that directly competes with fossil fuels, while it performs the same function of storing carbon. Real trees are a source of alternative fuel, artificial trees are not.

Finally, as oil and gas resources are nearing their peak, we will have to switch to a bio-based economy anyways. Starting with BECS would be a good way to speed up this transition.



More information


BBCNews: Artificial trees: A green solution? - Feb. 20, 2007
BBCNews: Five Ways to Save the World - Feb. 20, 2007
More info on the origin of Professor Lackner's idea can be found in this article: Synthetic trees could purify air - Feb. 21, 2003
Biopact: Abrupt Climate Change and geo-engineering the planet with carbon-negative bioenergy - Dec. 21, 2006