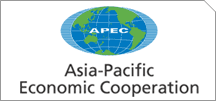 Despite criticism by NGOs from the West, Indonesia's massive biofuel development program (
earlier post
) will go ahead as planned, director of the Energy and Mineral Resources Ministry's research and development unit, Nenny Sri Utami has
announced
. The project is expected to turn the country into one of the biggest biofuel producers in the world, as it involves five million hectares of land set aside for growing tropical feedstocks. Indonesia's priority is to export biofuels to prosperous markets. Until recently, the obvious focus was on Europe, the single largest biofuel market. But more and more, Indonesia is looking East, towards rapidly growing economies in the Asia-Pacific region.
Over the coming decades, it is precisely there that energy demand will increase sharply: the region is set to drive 75% of all the growth in the world's fuel demand by 2030. And
according to
Jeffrey Skeer of the U.S. Department of Energy (DOE), who chairs the Asia-Pacific Economic Cooperation's (APEC) recently strengthened Biofuels Task Force (
earlier post
), it is therefor logical to expect biofuel trading in this market to grow along. Commercial imports by Japan, which have already commenced, will help the market to take off.
Unlike biofuels made from crops grown in temperate climates, green fuels made from tropical crops, such as sugarcane, sweet potatoes, palm oil, sweet sorghum and cassava, can compete with crude oil at US$50 a barrel, said Skeer at an industry conference in Tokyo:
ethanol :: biodiesel :: biomass :: bioenergy :: biofuels :: energy :: sustainability :: biofuels trade :: Asia-Pacific :: APEC :: Indonesia :: Japan ::

Biofuels are expected to be produced in larger volumes in several years from various crops, such as sugar cane and palm, in Asian countries like Malaysia and Indonesia at different harvest timings and costs, while corn is the main source of biofuel in the United States now.

"Cost differentials can mean big trade opportunities in the APEC region as biofuel markets grow over time," Skeer said.



Japan's role


Skeer pointed out that the start of the imports by Japan would provide a significant support for the biofuel trading market in Asia to take off. "Japan is pretty big. Imports will go slow but there is a good potential there," Skeer said on the sidelines of the conference.

Japan is seen as a potential big market of ethanol producers as it is the world's third-largest oil market and the only Asian country with a U.N carbon emission cap.

It also has ambitions to replace about a fifth of its auto fuels with biofuels or gas-to-liquid (GTL), but technically there is no commercial retail distribution of such fuel.

Japan's high dependence on imported food and the decline of its agricultural sector have also delayed the introduction of biofuel to its retail market.

The Japanese oil industry has this year opted to import ethyl tertiary butyl ether (ETBE) from France ahead of a test retail distribution of bio-gasoline starting in April, citing a lack of sufficient facilities for direct ethanol blending and issues related to petroleum product sales tax.



Imports from Brazil, South East Asia


But the industry has said it would shift to imports of ethanol from such countries as key exporter Brazil, and refiners, led by top refiner Nippon Oil Corp., set up a joint venture to import ETBE and ethanol in January.

The global biofuel industry is quickly developing amid growing concerns over climate change as biofuels emit less greenhouse gases than conventional fossil fuels as well as because of high oil prices.

U.S. President George Bush's speech in January that the states would sharply boost use of biofuels to reduce its fossil fuel consumptions by the world's largest energy market might speed up the pace of the industry growth.

The Japanese oil industry has also said costs to produce and import ethanol or ETBE is more expensive now, but DOE's Skeer said biofuels can be competitive with current oill prices.

"At world crude oil prices above US$50 per barrel, biofuels from a wide variety of crops are cost-competitive with petrol and diesel as fuels for transport," he said.

International benchmark U.S. crude prices have fallen sharply from a record above US$78, but still holding around US$50-55 levels.