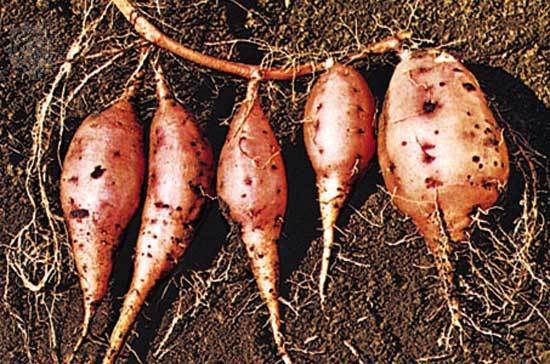 As the world moves away (at least conceptually) from the hydrocarbon economy and towards the
'carbohydrate economy'
, the search is on to find suitable plants that can be converted into the products of the future. With the basic chemical building blocks contained in biomass - sugars, starches, celullose, lignin - we can create a whole range of sustainable, biodegradable and clean products, from textiles and plastics, to green specialty chemicals, fuels and fibres.
Many plants have properties that make them suitable for different applications within this carbohydrate economy (or 'bioeconomy'), but some stand because of their high productivity, ease of processing or their special chemical properties.
The sweet potato (
Ipomoea batatas L.
) is such a plant (
fact sheet
). The tropical root crop (not to be confused with white potatoes) is an important staple for people in the South, but in China, the world's largest producer, it is grown as a livestock feed. Sweet potatoes thrive in many farming conditions, and can be grown in relatively poor soils with limited amounts of fertiliser. No major pests are known. The countries with the largest land base suitable for the crop are Brazil and the Democratic Republic of Congo. As we will show below, sweet potato lands are clearly located
outside
of rainforest basins - a major advantage compared to for example oil palm.
Starch = plastics, ethanol, biohydrogen

The tuberous roots of the crop contain very high levels of starch, which make sweet potatoes an interesing candidate for industrial applications. First and foremost, sweet potatoes will become a major ethanol feedstock (see below). In a way to diversify feedstocks away from food grains, the Chinese government is stimulating the use of sweet potatoes instead. Today, Taiwan's Council of Agriculture
announced
it is going to use sweet potatoes for ethanol in a pilot project, that may be extended to cover 220,000 hectares of the island's unused lands in the near future.
Auto manufacturer Toyota has already begun a large project to produce bioplastics and bioproducts from sweet potato. The crop is the key component of its
"cradle-to-cradle" design philosophy
. The leading car manufacturer opened a business in Indonesia,
P. T. Toyota Bio Indonesia
, entirely dedicated to the effort. Sweet potato starch can be turned into polylactic acid, from which plastics can be made. This sweet potato program was originally based on Professor Toyoki Kozai's research at the Chiba University Faculty of Horticulture, presented in a report for Toyota entitled "Sweet Potatoes to Save the Earth in the 21st Century." The main points of the report were: (1) the manufacture of biodegradable plastics from sweet potato starch will become common; (2) hydrogen derived from sweet potato alcohol will become an energy source for fuel cell and electric vehicles; and (3) Sweet potatoes would be developed as a livestock feed as an alternative to corn. Other Japanese researchers are working on biohydrogen production from sweet potato as well (see below).
The government of Ghana, in collaboration with international research organisations dealing with tropical agriculture, recently launched an
industrial sweet potato program
, aimed at producing ethanol and industrial starch. The program is explicitly presented in the context of energy security, 'saving forex', and poverty alleviation (as many rural jobs will be created).
So why exactly are some of the world's leading high tech businesses as well as governments with huge biofuel challenges in front of them looking into this crop? The reasons are relatively simple:
biomass
::
bioenergy
::
biofuels
::
energy
::
sustainability
::
sweet potato
::
starch
::
bioplastics
::
ethanol
::
bioeconomy
::
Ghana
::
Congo
::




High yields, low inputs


Even though sweet potatoes are commonly referred to as a "small farmer's crop", when they are grown on a large-scale, they yield very large amounts of biomass without the need for heavy investments in inputs. They can be harvested mechanically (which is a major advantage to other bioeconomy crops), and are easy to process into basic chemical building blocks.

Per kilogram, sweet potatoes yield some 40 to 50% more starch than corn, white potatoes and wheat. Per hectare, their starch productivity is 3 to 4 times higher than corn, and twice that of cassava.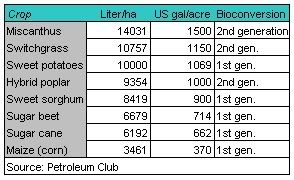 When it comes to ethanol production, sweet potatoes are also easier to process than corn and require considerably less energy inputs. This results in a higher overall energy balance (or 'EROEI'). The few comparisons that are out there, show sweet potato as the leading 'first generation' ethanol crop.

(Ligno)cellulosic crops, like hybrid poplars and grasses, require a next-generation conversion process that is still in its infancy and costly. The starch contained in sweet potatoes on the contrary can be extracted easily and consequently fermented into alcohol. In short, because of its high ethanol yield per hectare, sweet potato makes for a crop that will compete for many decades to come, even when commercially viable cellulosic ethanol makes it onto the scene faster than expected.

Note that in the table above, no account was made of the residual biomass that can be used for power generation. Just as is the case with bagasse (the residue of crushed sugar canes), sweet potato stalks and leaves can be burned or used as a biogas feedstock. Ultimately, this residue biomass can be converted into cellulosic ethanol as well. The residue to product ratio for sweet potatoes is around 1 to 1, meaning that for each ton of tubers produced, 1 ton of biomass residues (stalks, leaves) remains.



Congo, forests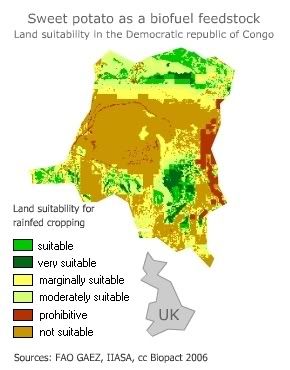 A quick look at agro-ecological land suitability for rainfed sweet potato teaches us that two countries stand out: Brazil and the Democratic Republic of Congo. But these countries also happen to be the hosts of the world's largest rainforests. Agro-ecological zoning (AEZ) - a GIS method used to locate suitable land and climates for crops - however neatly shows that sweet potato (like cassava), explicitly grows outside of rainforest zones. To stress this point: rainforest zones are totally unsuitable for sweet potato.

A vast zone in Congo's south-east provinces of West- and East Kasaï, Maniema and Katanga, has a high concentration of 'very suitable', 'suitable' and 'moderately suitable' land (roughly the size of the UK), that would have the highest productivity for this crop on the planet. AEZ models show different land and yield outcomes according to different inputs and technology mixes. Under a low input model, Congo's land suitable for rainfed sweet potatoes amounts to around 71 million hectares; under a high input model, it equals around 103 million hectares. The brown, 'not suitable' zone on the map roughly matches Congo's rainforest basin.

Currently, some 5% of all potentially arable land is used in these provinces. Projections on the future land availability for sustainably produced energy and bioproduct crops, show that there will be an enormous potential left after the needs for food, fodder and fibre of the rapidly growing local populations is satisfied. In any case, at 10,000 liters of ethanol per hectare, and several tens of millions of hectares available in Congo alone, it is clear that sweet potato offers an opportunity for some of the world's poorest farmers, who live in this region, to work themselves out of poverty, provided an export oriented ethanol program based on the crop were to be introduced in the region.

More information:

Toyota: Realizing a Recycling-Oriented Society Through Agricultural Biotechnology.

Toyota: Sweet Potato Business.

Treehugger: Sweet! Potato Cars from Toyota, Jan. 13, 2005.

Yokoi H., Saitsu A. et al., Microbial hydrogen production from sweet potato starch residue, Journal of Bioscience and Bioengineering, Volume 91, Number 1, 2001, pp. 58-63(6) (reference).

On Ghana's program, see: Siaka Kofi Duffuor, Sweet Potato Can Be Developed As Foreign Exchange Earner, Ministry for Food and Agriculture, [*.pdf]

Taiwan's Council on Agriculture and its sweet potato ethanol plans (China Post, Jan. 6, 2007).

On Agro-Ecological Zoning: see the interactive land suitability map database for rainfed crops at the FAO's Land and Water Division: land suitability for rainfed cropping.

On Global Agro-Ecological Zoning in general, see the dedicated website, with maps, at the FAO.

On the exact numbers for AEZ per country and per crop, see the excel spreadsheets at the "Global Agro-ecological Assessment for Agriculture in the 21st Century" website of the International Institute for Applied Systems Analysis. This website presents a wealth of data (also available on CD-rom), on land suitability, productivity and sustainability for different crops in all countries. For the data on Congo, click > spreadsheets > additional. Then look for the data on sweet potato. No direct link, the excel spreadsheets open in the same window.

All data derived from GAEZ account for basic sustainability (taking into account soil erosion, sustainable use of water resources, etc...; Congo's land base for sweet potato, for example, was calculated by accounting for fallow periods to restore soils).