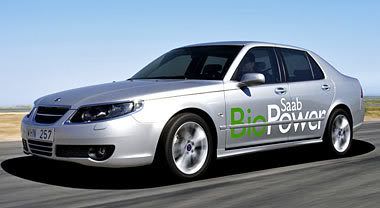 Sweden is one of the most active biofuels players within the European Union. The country leads the development of new biofuels (such as biogas as an automotive fuel -
earlier post
), but it also imports a large quantity of competitive ethanol from the Global South, where it is actively investing in biofuel production (
earlier post
). Swedish car manufacturers play a significant role in getting the country's biofuels program off the ground and are deriving clear benefits from it.
Premium Swedish car manufacturer Saab is amongst them; the company
announced
it achieved its strongest-ever global sales performance last year, growing worldwide sales by 5.4 per cent compared to 2005 and also setting a best-ever sales volume in Europe. Global sales increased to 133,167 cars, exceeding the previous record set in 2000. For the second year running, European sales boomed, increasing by 11.1 per cent in 2006 compared to the previous year. This established a new sales record of 88,859 units for the region, which was well ahead of the previous benchmark set in 2005.
In terms of individual markets, Saab's home market of Sweden performed exceptionally well during 2006, with full-year volumes up by 20.5 per cent. Much of this growth can be attributed to the enormous success of the Saab 9-5 BioPower flex-fuel car, which has taken the Swedish market by storm since its launch in mid-2005. Saab sold almost 11,000 9-5 BioPowers during 2006 in Sweden, meaning that almost one in three environmentally-friendly car sales in that market was a Saab BioPower. The green succes car has received a lot of attention after Richard Branson, a major biofuels investor,
endorsed it
by buying and touring one:
ethanol :: biomass :: bioenergy :: biofuels :: energy :: sustainability :: bioethanol :: flex-fuel :: Sweden ::

In the UK, which is Saab's single largest market outside of the US, the Swedish brand took its highest-ever share of the new car market, at 1.15 per cent. Booming retail demand, which swelled by an impressive 12 per cent in 2006 compared to 2005, contributed to healthy full-year volumes of 26,962 units. British customers confirmed their penchant for soft-top motoring as well during the year, buying more Saab 9-3 Convertibles in 2006 than in any other year since UK sales began in 1960.

Looking at model ranges globally, Saab 9-3 sales grew by seven per cent around the world last year, helped by the successful launch of the 9-3 SportWagon in the second half of 2005. Sales of the revised Saab 9-5 range, including the environmentally-friendly BioPower range, meanwhile, increased by six per cent.

Most encouragingly of all, however, Saab ended the year with an overflowing order bank for its key European markets, promising a great start to the year in which Saab celebrates 60 years of making cars.

Commenting on the news, Jonathan Nash, Managing Director of Saab Great Britain, remarked: "2006 has been a fantastic year for Saab in more ways than one. The unveiling of the Aero X concept car back in March reinforced Saab's position at the forefront of avant-garde and cutting-edge car design. Shortly after then, Saab hit the headlines with the first deliveries of the 9-5 BioPower, which is the world's first turbocharged car able to run on bioethanol, proving that responsible motoring can be exciting. The fact that Saab has enjoyed double-digit retail growth in a year when the rest of the UK market struggled is the icing on the cake for us."

Nash continued: "I am confident that 2007 will be an equally positive year for Saab. The continued focus on our BioPower range of environmentally-friendly cars is sure to keep Saab firmly at the top of the green agenda, whilst the celebrations surrounding 60 years of Saab building cars will keep the British public's interest in this great brand at their highest-ever levels."