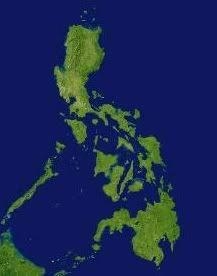 The Philippines remains one of the most active players on the Asian biofuels scene. Since the government approved the Biofuels Act (
earlier post
), the developments and investments in the sector have entered a turbulent phase. Besides the creation of a local industry, the island state is receiving a lot of interest from China and Japan, two countries aggressively pursueing acquisitions of biofuels supplies abroad. The abundance of land, a climate suitable for tropical energy crops, a large farming community and a central geographical location in East Asia, makes the island state an ideal place for investments in the production of bioenergy feedstocks.
The Philippine government has now
announced
it is set to sign 19 (energy) farm agreements with China involving investments worth 240.1 billion pesos (€3.8/US$4.9 billion) over the next five to seven years.
The deals, to be signed during the state visit of Chinese Premier Wen Jiabao to the Southeast Asian country on Monday and Tuesday, included the development of 1.2 million hectares for both food crops such as rice and corn as well as biofuel crops such as sorghum and sugarcane in the Philippines.
The biggest of the deals will be a memorandum of agreement that will allow the Fuhua Group Ltd. to invest €2.96 (US$3.83) billion in one million hectares of land in the Philippines for higher-yielding corn, rice and sorghum, Agriculture Secretary Arthur Yap said.
Yap said two agreements with total investments worth P43.4 billion (€688/US$890 million) will also be signed with the Beidahuang Group, the corporate state farm of the Hei Long Jiang province. One of the agreements with the Beidahuang Group will be for the development of 200,000 hectares for rice, corn and other crops on Luzon island in the northern Philippines.
"These agreements are expected to further reinforce existing trade and investment ties between Manila and Beijing and herald what China has described as the golden age of bilateral relations between our countries."

-- Philippine Agriculture Secretary Arthur Yap
Five ethanol projects will also be signed, three of them involving Nanning Yongkai Industry Group. One of the joint venture projects involving Nanning will result in the production of 150,000 liters (39,630 gallons) of ethanol per day. The production estimates of the two other projects were not disclosed.
Yap further announced an agreement would also be signed with the Agricultural Department of Guangxi Zhuang Autonomous Region to develop an initial 40,000 hectares for cassava and sugar in the Philippines to produce ethanol for export to China:
ethanol :: biodiesel :: biomass :: bioenergy :: biofuels :: energy :: sustainability :: biofuel trade :: Japan :: China :: Philippines ::


China and the Philippines, which are both trying to cut dependence on imported oil, are turning to crops that they grow in abundance such as sugar, cassava, corn and coconut oil to produce alternative bio-fuels.

Other farm agreements include investments in fruit, flowers and fiber production.

Earlier, China and the Philippines already signed a bilateral ethanol cooperation agreement (earlier post) and concrete memoranda of agreement resulting in the approval of the construction of ethanol plants by Chinese companies in the Negros region, one of the Philippines' poorest, where local farmers will grow the feedstocks, mainly sugarcane. China intends to import the ethanol (earlier post).

The island state is also cooperating with Japanese research institutions on a biofuels R&D program, mainly aimed at supporting the development of an export-oriented green fuel industry (earlier post). A Philippine biofuels company has also launched a large coconut biodiesel project, aimed at producing fuels for export to Japan (earlier post).