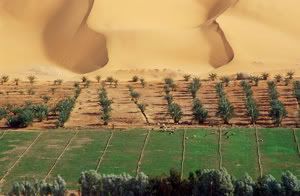 Dennis Bushnell
, chief scientist at NASA's
Langley Research Center
, where scientists test emerging technologies, is confident that within five years commercial aircraft could be powered using a type of biofuel derived from saltwater plants, or halophytes, grown in desert areas and irrigated using sea water. While the concept may sound far-fetched, engine manufacturer General Electric says it is following developments in this area "with interest". The chief scientist claims that an area smaller than the Sahara desert could yield enough biomass to replace the world's total fossil fuel requirements.
Bushnell says 22 countries are carrying out small experimental activities into the cultivation of halophytes for use in food production, although he admits "nobody is doing this type of biomass for aircraft" at this time. Nevertheless, Bushnell sees "no stoppers" to augmenting halophyte-derived biomass to produce biofuels capable of powering aircraft.
"This is far from evolutionary, it's just outside people's radar screens and the usual human reaction to this is to say that it's impossible," says Bushnell. "What's nice about biofuel is that it can use the existing infrastructure used by the oil companies and can be available much sooner than hydrogen, which would require changes to infrastructure and is, therefore, much further into the future."
Plant-based fuels such as biodiesel, ethanol or biogas can be produced from biomass ranging from cow manure and grass to wood chips and root crops. The advantage of developing biofuel from halophytes as opposed to other types of biomass is that saltwater plants are not dependent on fresh water, which is in increasingly short supply, and can instead be irrigated using plentiful sea water supplies. Bushnell notes that, following irrigation, the salt from the sea water "should leach back into the ocean" without causing problems to agriculture. Other scientists have found there to be a definite potential for 'saline agriculture' in the developing world.
Suitable areas around the world for cultivating halophytes include the Sahara desert and the Sahel, Western Australia, south-west USA, parts of the Middle East and parts of Peru. Scientists claim that an area smaller than the Sahara desert could yield enough biomass to replace the world's fossil fuel requirements.
Wetter deserts
Furthering the case for halophyte production, Bushnell says that, as these plants are grown in the desert, they will produce a cooler, wetter land surface, which could lead to rainfall in areas of the world where rainwater is in short supply:
biomass :: bioenergy :: biofuels :: energy :: sustainability :: salt-tolerant crops :: halophytes :: aviation biofuels :: Sahel ::

GE Aviation manager of advanced combustor engineering Timothy Held believes some progress can be made within five years on testing biofuels derived from halophytes for use in commercial aircraft engines, but he says that the entire process of developing and producing the fuel will take longer. "It seems plausible that some amount of suitable fuel could be made available for testing purposes in the five-year timeframe," he says.

"However, the steps of establishing suitability for use in flight gas turbines, obtaining approval from the engine manufacturers, incorporation of the new fuel into a specification and developing large-scale production capacity are quite time-consuming," Held says. While biodiesel has been used by GE to operate marine gas turbines, it is not suitable for aircraft engines because of its poor low-temperature properties, but he believes a fuel derived from bio-oil by conversion to a paraffin-based product has a significant chance of becoming a viable aviation fuel.

NASA's Bushnell believes the argument in favour of biofuels for aviation is being reinvigorated by "the incipient demise of cheap oil" and increasing evidence of global warming due to the burning of fossil fuels. "This is the only easy solution I know of, both in terms of economics and timescale, and we do not need major capital investments to do this. It is definitely worth a serious look," he says.



Bushnell brainstorms


We found an interesting (and very enthusiastic) stream of thoughts of the chief scientist on salt-tolerant crops and their biofuels potential. In the process of researching future technology/future warfare for the Military and Intelligence Communities, he ran across the following:

:: "The 'Bio Revolution' is developing plant life which is not only tolerant of brackish water but even thrives on seawater. I [Bushnell] understand that seawater-irrigated tomatoes are quite tasty."

:: "The Department of Energy (DOE) has the enzymes to convert such bio mass into petro-chemical feed stock, enabling biomass energy, including hydrogen, production on a MASSIVE SCALE. And this is in previously underdeveloped areas, in essentially a CLOSED [overall] CO2 cycle, using non-fresh water."

:: "Such an approach changes, on a global scale, nearly everything, including much of energy-related economics. [What would happen] should we no longer need to use fossil fuels for energy or conventional agriculture? And, such biomass also could be used for food and plastics, etc.. The resultant evaporation of seawater on these land masses could also produce terraforming, putting rainfall back into the Middle East, and reversing the desertification of the sub-Sahara and similar areas."

:: "Such an approach, enabled by the "Bio Revolution", could enable MASSIVE changes in agriculture, land use, and global economics and potentially aleviate the fresh water, global warming, land and food shortage problems while providing a CLEAN (closed CO2 cycle) energy source (with MANY ways to distribute the energy,including H20."

:: "In addition, the resultant mineral layer after evaporation is rich in MANY useful materials. Its use could obviate several currently polluting "mining" activities. Also,the Scientific American article argues that the soils in these areas are such that much of the salt would leach back into the ocean."

:: "The Indians (on the Indian sub-continent) utilize, and have utilized, existing plant stocks/species which were naturally adapted to brackish/salt water." Bushnell notes that he has several such growing in his backyard, on the York River in Virginia, a tidal estuary. The National Academy report mentioned above documents all this: some food utilization, much animal feed, etc. The key, evidently, would be to increase yet more the salt tolerance/processing bits and, for energy biomass, to increase the growth rate.

:: The Scientific American article notes that "Yields of salt-tolerant crops grown using seawater agriculture are comparable to freshwater-grown alfalfa". And this is BEFORE anybody might muck about with the genomics, etc.

:: MSNBC ran an article on 7/31/01 entitled "GM Tomato is the first to grow in salty water and soil" - indicating a beginning of the genomic "Salt-Transformation", albeit on a "back-burner" basis.

:: People are seriously looking into CO2/Carbon sequestration, and all sorts of expensive projects/approaches just for attacking global warming. According to Bushnell, the seawater cost approach "mitigates most of the major current human/species/planet ills" and it has tremendous potential geo-political impacts. "Simplistically, the oilmen become "farmers", but still stay in the Chemical Engineering business. The winners are the Australians, the North Africans, the Navaho and Hopi Indians in the American southwest, the Saudis and other desert-near-ocean owning groups, although pumping seawater inland is not that much of an issue."

:: Could this approach mitigate global warming (plants take up the CO2), provide a new source of Energy (just the Sahara may be enough to produce current energy requirements), and provide unlimited sources of fresh water?

:: Although there are alternatives for the energy and global warming isuees, says Bushnell, including "the wastly less expensive than current silicon Nano-PhotoVoltaics and H-B11 aneutronic fusion. An additional "gleam-in-the-eye" is Tapping Zero Point Energy, which some are seriously working on, has largely passed the giggle-factor stage. However,the seawater agriculture is doable NOW, is INEXPENSIVE, and has a large number of anciliary benefits. Conventional wisdom has it that Biomass is limited by conventional/arable land and fresh water limitations/scarcity. Seawater Agriculture removes these limitations. This is, of course, SOLAR!"



More information:



Edward Glenn, Jed Brown, and James O'Leary, "Irrigating Crops with Seawater",[*.pdf], Scientific American, August 1998.

"Saline Agriculture: Salt-Tolerant Plants for Developing Countries", U.S. National Academies of Science Press, 1990.

Stanford Solar Center: Ideas on the Use of Seawater Irrigation/Agriculture for Energy, Global Warming, Land, Fresh Water, Food & Minerals.

Flight Global: Making the desert bloom - with fuel-yielding plants, Jan. 16, 2007.