Quicknote bioenergy feedstocks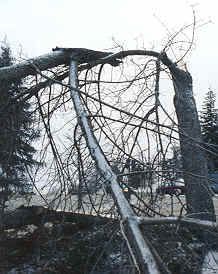 One man's tragedy is another man's profit... US-based Green Energy Resources, a biomass feedstock supply company,
announces
it has contacted Texas, Missouri, and Oklahoma to accept woodchips and waste wood resulting from the recent ice storms. Major cities such as St.Louis, Dallas, Austin and San Antonio have been affected. The woodchips need only be loaded on trucks, barges or rail cars for transportation.
The company has to meet supply orders covering more than 1 million tons for 2007. It is seeking to find low cost or no cost supplies and thinks storm damage woodchips are a cost effective method of alleviating disposal costs for communities, cities and states, while supplying the global renewable energy industry. Government entities could save millions of dollars in expenses by adopting a recycling plan such as the Urban Tree Certification system (UTCS) offered 'free' by Green Energy Resources.
In other news Green Energy Resources is seeking financing to purchase two woodchip vessels. The two ships are panamax size transports and expected to cost around $25-$30 million each. The ships could be available as early as March. Green Energy Resources is looking to charter or purchase as many as 5 vessels to meet current and future export demands.Green Energy Resources has targeted a 20% market share of the European biomass imports by 2011. Each vessel would generate approximately $15-$25 million or more in gross revenues per year for the company [entry ends here].
biomass :: bioenergy :: biofuels :: energy :: sustainability :: bioenergy trade :: bioenergy logistics ::