Quicknote biofuel potential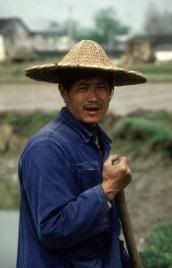 A senior official
announced
today that the Chinese government aims to develop liquid biofuels like ethanol and biodiesel in rural areas to cut usage of refined oil by 10 million tons, or more than a quarter, by 2020, and to boost China's rural economy. Earlier announced official policies have set similar targets (
earlier post
).
The development of biofuels would solve the country's energy shortage and ensure national energy security, says Shi Yanquan, deputy director of the Ministry of Agriculture's department of science, technology and education.
As the world's third largest oil importer after the United State and Japan, China imported record-high 36.38 million tons of refined oil last year, 15.7 percent up on 2005, to fuel an estimated annual economic growth of 10.7 percent.
Boost to China's poor farmers
The Chinese government thinks bioenergy production offers a major opportunity for social and economic development in the country's rural areas. The rapidly growing wealth gap between the 600 million famers of the countryside and the urbanites in the booming cities is seen as one of the most significant threats to the social and political stability of the People's Republic. Last year, the country faced some 80,000 'social conflicts' involving poor farmers who are being left out of China's rapid development. Large-scale biofuel production is now seen as a prime strategy to slow down the deepening crisis resulting from this growing inequality.
Shi said using crops and organic waste in rural China to produce biofuels would meet the country's growing energy demands and boost the rural economy. Apart from liquid biofuels, the government will focus on developing biogas (methane), solid biofuel pellets based on agricultural residues such as rice and wheat straw for burning, and oil-rich crops in the rural areas in the next five to 10 years, said Shi.
Shi said the ministry planned to provide 40 million rural households with access to methane by 2010, more than double the number at the end of 2005. Chinese experts say biofuels and bioenergy are the most important energy source for China's future after coal, oil and natural gas [entry ends here]
ethanol
::
biodiesel
::
biomass
::
bioenergy
::
biofuels
::
energy
::
sustainability
::
poverty alleviation
::
rural development
::
social inequality
::
China
::