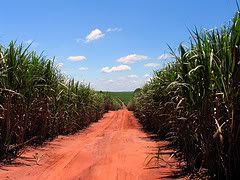 The world's leading green fuel producer is stepping up its efforts to create a global market for biofuels, in an impressive way. As part of a major industrial program launched by President Luiz Inacio Lula da Silva, aimed at speeding up economic growth in Latin America's largest country, Brazilian companies and other investors are to pour an estimated 17.4 billion Brazilian reais (€6.2/US$8.1billion) in the country's biofuels sector over the next four years, the Energy Ministry says.
Minister Silas Rondeau
said
Brazil's ethanol output would grow by 40% to 23.3 billion liters from the current 16.7 billion by 2010 and biodiesel production would grow to 3.3 billion liters from the roughly 800 million liters now.
An advisor to the minister said the figure was a forecast of investment from the public and private sectors combined and that no Treasury funds were included. Government investment would come through the state-run oil and gas company Petrobras. The new investments in Brazil's biofuels sector will result in the following, impressive numbers and projects:
ethanol

: the construction of 77 new ethanol plants has been confirmed, which will produce about 40% more ethanol in four years time than the roughly 17.5 billion liters of ethanol the country is expected to produce in its 2006-07 sugarcane season (May-April).

biodiesel

: the country is on track to produce four times more biodiesel by 2010, compared to the roughly 840 million liters of biodiesel that local companies are set to deliver to Petrobras by the end of this year. 46 new biodiesel plants will be built by 2010.

H-bio

: Petrobras plans to invest 150 million reais (€54/US$70 million) to make its innovatie, vegetable oil-diesel blend called H-Bio in four refineries in the states of Minas Gerais, Parana, Rio Grande do Sul and Sao Paulo in 2007 (more on H-Bio).

dedicated pipelines

: two ethanol pipelines spanning a combined total of 1,150 kilometers will be built by Petrobas. The first of these pipelines is a pipe running from the center-south state of Goias to Sao Sebastiao port in Sao Paulo state. Its construction has already begun (earlier post). The second is a proposed pipeline that would carry both ethanol and biodiesel. It would begin in the Mato Grosso state capital of Cuiaba and run to the country's No. 2 port of Paranagua in the southern state of Parana. Both pipelines must serve the expanding global market for biofuels.

"These are projects that are confirmed - they have either started construction already or have the financing all set" a ministry spokesperson said:
ethanol :: biodiesel ::biomass :: bioenergy :: biofuels :: energy :: sustainability :: infrastructure :: biofuel pipeline :: biofuel exports :: Brazil ::

In addition to these pipelines, Petrobras has also committed to investing 570 million reais (€201/US$266 million) in three biodiesel plants with the combined capacity of producing 150,000 tons of biodiesel per year, with additional plants possibly underway.

"We're still negotiating with the private sector," said Jose Sergio Gabrielli, president of Petrobras. "The share (of the company's investment) is not predetermined."

Brazil has one of the world's most developed biofuels markets with over 30,000 filling stations offering motorists cane-based fuel ethanol. The country is also about to make a 2 percent biodiesel blend mandatory nationally in 2008.

The country currently has over 300 sugarcane mills that can produce ethanol, as well as a handful of biodiesel plants. It is also one of the world's leading producers and exporters of biofuels, principally of sugarcane-based ethanol.

Last week, the president of Brazil's Cane Industry Association (Unica), Eduardo Pereira de Carvalho, said that current investments in cane milling and distillation capacity were estimated at €11/US$15 billion dollars. This figure includes sugar refining as well.