Quicknote bioenergy cooperation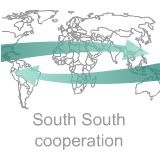 Earlier we reported on the first Brazil - India - South Africa Summit held recently in Brasília, during which the three countries agreed on strengthening their economic and political relations. The Summit was one more signal of the ever stronger movement towards increased South-South cooperation amongst 'transition' economies (
earlier post
). At the eve of that Summit, Brazil and India signed a key bioenergy pact (
earlier post
).
Now the Conselho Científico Brasil/Índia (Indo-Brazilian Scientific Council) which convened in Bangalore today,
approved
[*Portuguese] a series of bilateral cooperation activities to be launched from february 2007 onwards. According to Professor Jacob Palis Jr., vice-president of the Academia Brasileira de Ciências and heading the Brazilian delegation, both countries agreed to collaborate on nanotechnology, IT, material sciences, biotech, oceanography and epidemiology. Finally, cooperation on the bioenergy front took central stage too.
Professor Paulo de Góes, director of International Relations at the Brazilian Science Academy said that "one of the most important issues on which an agreement was reached is that of academic educational exchanges, especially aimed at bringing young scientists together".
Góes says Brazilian scientists are a step ahead of their Indian counterparts in the field of bioenergy, particularly when it comes to liquid biofuels. Brazil leads the world in the production ethanol and can contribute a lot to India's renewable energy strategies. India is the world's second largest sugar producer. "The Indians are interested in our ethanol technologies based on sugar cane", confirms Góes. On the other hand, India can offer us a lot on the front of computer sciences and oceanography, he adds.
The professor stresses that the bilateral scientific exchanges form a synergy with commercial exchanges, especially in agriculture. He says it is important for Brazil and India to share and protect genetic resources, and to tackle market access to the North in a combined and integrated effort. The agreements and programmes between the two countries have received the support of several Brazilian ministries, to know the ministry of Science and Technology, that of Economic Development and the ministry of Industry and Trade [entry ends here].
ethanol
::
biodiesel
::
biomass
::
bioenergy
::
biofuels
::
energy
::
sustainability
::
South-South
::
Brazil
::
India
::
Article continues