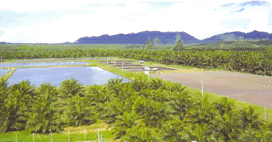 Sugar cane ethanol partly gets its very positive energy balance (8 to 1 and even 10 to 1) from the fact that 'waste' biomass from the canes (bagasse) is burned to produce electricity. This power is then used to operate the sugar and ethanol processing plants, while excess electricity is fed into the national grid (
earlier post
).
So far, the oil palm industry in Asia has not used its vast waste streams in such an efficient manner. In fact, it uses less than 10% of the available energy from its plantations (that energy is contained in the oil). Up to 90% of the biomass from such a plantation -- palm fronds, kernel shells, empty fruit bunches, fibres, trunks -- is considered to be 'waste' and is simply burned in the open air, without recuperating the energy contained in it. Moreover, when a palm oil mill processes palm fruits and palm kernels into oil, a vast amount of sludge called 'POME' (palm oil mill effluent) is released. Most producers create ponds where this POME is left to settle (see pic); all the while, it releases copious amounts of both carbon dioxide and methane. It has been known for quite a while that this effluent yields significant amounts of biogas, that could be used to power the processing plants. Per hectare, palm oil potentially yields some 200 cubic metres of biogas from POME (
earlier post
).
Luckily, more and more palm oil refiners are starting to tap this vast amount of waste for energy (see
plans to use the cellulose rich waste biomass from palm for the production of cellulosic ethanol
), or for the production of specialty bio-products (such as
biodegradable plastics from palm oil mill effluent
- *.pdf). Rising oil and gas prices make these options more and more attractive. In this context, a leading crude palm oil producer in Thailand, Univanich Palm Oil Plc, now
announces
that it will invest more than 600 million baht (€13/US$17 million) in three 'very small power plants' (VSPPs) fuelled by biogas over the next couple of years.
Managing director John Harvey Clendon said two of the plants would have a generating capacity of 950 kilowatts each and the third plant would generate two megawatts. "We're now working on the layout and foundation of our first power plant, which will require a 100-million-baht budget from this financial year", he said. The company will then spend 222 million baht to complete the first phase and start the second plant next year. The third power plant will be developed in 2008 with the investment of 308 million baht.
The three power plants will use biogas produced from the effluents from palm oil processing (POME). The electricity generated from the three plants will feed the company and the rest will be sold to Thailand's Electricity Generating Authority at around three baht (6 eurocents/8.5 dollarcents) per KWh, that is, very competitively:
biomass :: bioenergy :: biofuels :: energy :: sustainability :: palm oil :: bioplastics :: waste :: biogas ::methane :: energy balance :: Thailand ::


The utilisation of waste for energy will make the energy balance of palm oil biofuels even more positive.

Mr Clendon adds that "the incentives for VSPP investments are very attractive. Moreover, we had researched the potential of this kind of projects for a few years, so we could move quickly when the government announced this scheme".

He noted that the company was also interested in developing another power plant using biomass, which would be fuelled by oil-palm leftovers in 2009.

For the palm-oil production, Univanich plans this year to export 100,000 tonnes of crude palm oil, or 30% of total output, to Europe and Asia, particularly India.

"When we export palm oil, we're worried about the stronger baht but its impact will be very minimal as selling prices in the global market have been rising for two months and will continue to increase until next year," Mr Clendon said.


Article continues