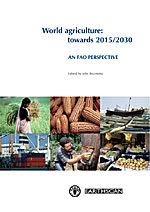 Anyone studying the global potential and prospects for bioenergy and biofuels, uses the Food and Agriculture Organisation's "World Agriculture" reports. These authoritative studies give an overview of the world's current state of agriculture and its longterm outlook - crucial factors in assessing how much biofuels can be produced and what the effects of this production will be on global food security.
Compiled by the FAO's Global Perspective Studies Unit, the reports aggregate countries into regions and agricultural products into commodity groups, then look at how agricultural production and trade succeed in satisfying populations' growing demands for food, fibre and animal feed. Drawing on a wide range of factors - from demographic changes and dietary trends to land-use changes and technological advances in agriculture - the data are then projected over a time horizon spanning several decades.
The latest report,
World agriculture: towards 2015/2030
[publicly available], dates from 2003. While working on a new version, the FAO produces 'interim reports' to reflect new changes in global agriculture. The latest interim report,
World agriculture: towards 2030/2050
, became available recently (june 2006). The emergence of a global biofuels industry is taken up explicitly as one of the three main reasons for the new outlook. The other two deal with demographic changes (global population growth is set decline faster than expected) and with the disappointing progress made in the fight against undernutrition and hunger (targets for which were set out at the World Food Summit of 1996).
Let us look at these three reasons more in depth and at how the FAO assesses the positive and negative effects of the bioenergy opportunity on global agricultural production and nutrition:
ethanol :: biodiesel :: biomass :: bioenergy :: biofuels :: energy :: sustainability :: agriculture :: food :: hunger :: undernutrition :: developing countries :: Africa :: FAO ::




World population to stop growing earlier than expected


The first reason for the revision has to do with demography. Future world population may be lower than the projections available at the time of the earlier study indicated. For this reason, food requirements in the future may be lower than projected in the earlier study. In addition, longer-term projections suggest that the end of world population growth may be within sight by the middle of this century, as world population may peak at 9.2 billion around the year 2075. In practice, much of the increase between the 6.1 billion of 2000 and the peak will have occurred by 2050 when world population may reach 8.9 billion.

It follows that over the next 50 years world agriculture may be transiting to a future when global population growth will no longer be the major driving force for further growth in world food demand and production. This has consequences for the rate at which further pressures on land and water resources and the wider environment will be building up.

The FAO writes:

In this context, of particular interest is the question: will the eventual cessation of world population growth imply that the classical Malthusian concerns (the prospect that population growth will run ahead of the potential of agriculture to increase food production, and its corollary – food insecurity attributed predominantly to production constraints), will no longer be relevant?
We attempt to estimate the magnitudes involved, but the short answer is that these concerns will probably retain their full relevance well beyond 2050.




Bioenergy and biofuels to the rescue of agriculture?





(The following section is taken over from Chapter 1. Overview, section

"1.1. Why the new outlook to 2050"

- [*.pdf])


"The second reason is that the growing tightness of energy markets and associated rising oil prices may exert some important effects on food and agriculture that have to be taken into account. At the time of the earlier projections, the World Bank's price outlook for oil was that it could decline from the US$ 28/barrel of 2000 to US$ 21/barrel in 2015 in current dollars and even more in constant dollars of 1990. The outlook is quite different in the Bank's latest assessment in view of the recent sharp price rises – to a 2005 average of US$ 53.4/barrel. Thus, "the World Bank has adopted a technical assumption for the future path of oil prices based on a slow decline toward US$ 40 per barrel by 2010".



High oil prices, a burden on food and agricultural production


High energy prices affect the food and agriculture sector in several ways. Besides the classical ones (via macroeconomic effects affecting all aspects of production, consumption and trade, and the more direct ones on production agriculture via the effects on the costs of the energy-intensive inputs like fertilizer and fuel) they can impact agriculture by creating new markets for those products which can be used as biomass feedstocks for the production of biofuels as substitutes for the petroleum-based fuels (petrol, diesel) in transport.

The case of Brazil which, after a period of shrinkage during the 1990s when oil prices were low, has now reverted to using some 50 percent of its sugar cane output to produce fuel ethanol, both for domestic use and export, is telling.

Ethanol in Brazil is considered to be competitive vis-à-vis traditional fossil fuels at oil prices of US$ 35-40/barrel, although this figure will vary with the dollar exchange rate. Also well known is the growing use of maize in the USA (in this case with subsidies) to produce fuel ethanol. The renewable fuel provisions in the Energy Policy Act of 2005 will further promote such use: by 2015, it may become more important than exports and could account for some 23 percent of the country's maize output, with important impacts on world markets.

Again with subsidies, the use of vegetable oils to produce biodiesel is expanding in certain EU countries, while the EU has a target of a 5.75 percent market share of biofuels in the petrol and diesel market in 2010. The latest projections of the European Commission foresee that 1.5 million tonnes of grain and some 10 million tonnes of oilseeds may be used to produce bioenergy in 2012. There is growing interest in the countries with abundant, or potentially so, production potential of suitable feedstocks (like palm oil for biodiesel in Malaysia and Indonesia, cassava and sugar cane for ethanol in Thailand) for going the way of producing biofuels, both for domestic use and export.



Novel development opportunities


Although at present the promotion of biofuels is often used in several industrialized countries as a means to relax the demand constraints facing agriculture, in the future it can have far-reaching effects on world agriculture as it can offer novel development opportunities for countries with significant agricultural resources, if barriers to trade of biofuels were eased or removed. Africa, with its significant sugar cane production potential, is often cited as a region that could profit from Brazil's experience and technology, though obstacles to realizing it (infrastructure, institutional, etc.) should not be underestimated. Eventually, the competitiveness of biofuels may be further enhanced if the savings of greenhouse gas emissions resulting from substituting ethanol for gasoline were to be monetized in the form of tradable carbon credits (Certified Emission Reductions of greenhouse gases) through the Clean Development Mechanism under the provisions of the Kyoto Protocol. It is too early to deal fully with this important subject, given the uncertainties about future oil prices.



First steps towards more research


However, the issue of alternative energy sources is very alive and questions are increasingly asked about the potential of world agriculture to become a significant source of feedstocks and in particular the food security and environmental implications, e.g. further deforestation from the eventual expansion of land under the feedstock crops (oil palm, soybeans, sugar cane, etc). Our conventional projections to 2050 are a first and necessary step in addressing this issue: they can help establish how much more food and related agricultural resources the world may need and in which countries – a valuable input into any evaluation of the potential for diverting agricultural resources to other uses and what this may imply for food security. The advancement of technology in converting lignocellulosic biomass (from crop residues, grasses and wood) to produce "cellulosic" ethanol may contribute to mitigating eventual pressures on the land with food crop production potential."




World Food Summit targets not on track


A third reason is that nearly ten years into the period to 2015, the date by which the international community committed itself in the 1996 World Food Summit to halving hunger and undernutrition (halving the numbers undernourished), not much progress has been made and the prospects that the target will be attained are not encouraging. The significant progress made by some countries is being compensated by severe setbacks suffered by other countries. The latter tend to be those with high population growth rates, hence failures to increase food consumption per capita are translated into increases of the numbers undernourished. For those among them with poor agricultural resources and high dependence on them for their food security and overall development, the task of achieving in the foreseeable future the quantum jumps in food consumption required for meeting the target may prove very arduous indeed. Longer term projections can help drive home the issue that even if the global target for reducing undernutrition were achieved, there will still be several countries with unacceptably high incidence.

The need to plan ahead interventions to cope with the persistence of high undernutrition will likely remain a live issue for many years to come.




Conclusion


The FAO's interim report sees the development of a bioenergy industry mainly as an opportunity for developing countries to become energy independent and to relieve the very high economic burden of high fossil fuel prices. But realism forces us to admit that the barriers to the implementation of such a biofuels industry are very high, especially in countries whose populations the FAO identifies as suffering under high ratio's of hunger and undernutrition. On the other hand, it is precisely in these countries that the FAO sees the greatest positive effect of biofuels, precisely because these economies are very energy intensive and suffer under high oil prices.


The concept of the 'energy intensity' of an economy indicates the amount of energy an economy needs to produce a unit of GDP output. Economies that make the transition from an agrarian to an industrial status are generally most energy intensive; fully industrialised economies have a high to medium energy intensity; when they make the transition to post-industrial, service-based economies, they become considerably less energy intensive. This is a universally observed trend. Many developing countries precisely belong to the group of economies that are in a transitional phase between being largely agriculture-based and being in the process of industrialisation.
This makes them extra vulnerable to high energy prices. Ultimately, these high prices damage their agricultural output, and their food security.

The "World Agriculture: Towards 2015/2030" report showed very clearly that in many developing countries, there is an abundance of resources (arable land, water, climatic conditions) that allow the creation of large-scale and

sustainable

biofuel industries, that do not threaten the food security of growing populations. The interim report substantiates this fact and adds that bioenergy may even strengthen the food production in some of the least developed countries, provided that non-agricultural barriers such as lack of infrastructure, lack of investment, lack of political stability and lack of market access can be torn down.

The interim report is one of the most basic documents for anyone who wishes to engage in the biofuels debate in a serious manner.




More information:




FAO: World agriculture: towards 2015/2030. An FAO perspective. Rome, 2003 - *.html overview; full document in *.pdf format.


FAO: World agriculture: towards 2030/2050.Interim report. Prospects for food, nutrition, agriculture and major commodity groups; Chapter 1. Overview, section "1.1. Why the new outlook to 2050" - [*.pdf].

FAO: World agriculture: towards 2030/2050. Interim report. Prospects for food, nutrition, agriculture and major commodity groups. Rome, june 2006 - *.html overview; full version in *.pdf format.
Article continues