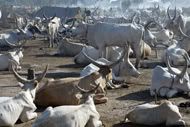 Which causes more greenhouse gas emissions, rearing cattle or driving cars? Surprise! According to a new report published by the United Nations Food and Agriculture Organization (FAO), on a global scale the livestock sector generates more greenhouse gas emissions as measured in CO2 equivalent – 18 percent – than transport. It is also a major source of land and water degradation. But there are several remedies to reduce the livestock sector's contribution to GHGs, and many of those involve bioenergy production. Moreover, urgently needed shifts in the way animals are reared will open up far more potential for the production of biofuels globally.
Henning Steinfeld, Chief of FAO's Livestock Information and Policy Branch and senior author of the report entitled
Livestock's long shadow - Environmental issues and options
[*.pdf] [or
individual chapters
]: "Livestock are one of the most significant contributors to today's most serious environmental problems. Urgent action is required to remedy the situation."
With increased prosperity, people are consuming more meat and dairy products every year. Global meat production is projected to more than double from 229 million tonnes in 1999/2001 to 465 million tonnes in 2050, while milk output is set to climb from 580 to 1043 million tonnes.
Livestock's importance in developing countries
The global livestock sector is growing faster than any other agricultural sub-sector. It provides livelihoods to about 1.3 billion people and contributes about 40 percent to global agricultural output. For many poor farmers in developing countries livestock are also a source of renewable energy for draft and an essential source of organic fertilizer for their crops:
biomass :: bioenergy :: biofuels :: energy :: sustainability :: climate change :: livestock :: cattle :: CO2 :: methane :: biogas :: developing world :: FAO ::


But such rapid growth exacts a steep environmental price, according to the FAO report. "The environmental costs per unit of livestock production must be cut by one half, just to avoid the level of damage worsening beyond its present level," it warns. When emissions from land use and land use change are included, the livestock sector accounts for 9 percent of CO2 deriving from human-related activities, but produces a much larger share of even more harmful greenhouse gases. It generates 65 percent of human-related nitrous oxide, which has 296 times the Global Warming Potential (GWP) of CO2. Most of this comes from manure.

And it accounts for respectively 37 percent of all human-induced methane (23 times as warming as CO2), which is largely produced by the digestive system of ruminants, and 64 percent of ammonia, which contributes significantly to acid rain.

Livestock now use 30 percent of the earth's entire land surface, mostly permanent pasture but also including 33 percent of the global arable land used to producing feed for livestock, the report notes. As forests are cleared to create new pastures, it is a major driver of deforestation, especially in Latin America where, for example, some 70 percent of former forests in the Amazon have been turned over to grazing.



Land and water


At the same time herds cause wide-scale land degradation, with about 20 percent of pastures considered as degraded through overgrazing, compaction and erosion. This figure is even higher in the drylands where inappropriate policies and inadequate livestock management contribute to advancing desertification.

The livestock business is among the most damaging sectors to the earth's increasingly scarce water resources, contributing among other things to water pollution, euthropication and the degeneration of coral reefs. The major polluting agents are animal wastes, antibiotics and hormones, chemicals from tanneries, fertilizers and the pesticides used to spray feed crops. Widespread overgrazing disturbs water cycles, reducing replenishment of above and below ground water resources. Significant amounts of water are withdrawn for the production of feed.

Livestock are estimated to be the main inland source of phosphorous and nitrogen contamination of the South China Sea, contributing to biodiversity loss in marine ecosystems.

Meat and dairy animals now account for about 20 percent of all terrestrial animal biomass. Livestock's presence in vast tracts of land and its demand for feed crops also contribute to biodiversity loss; 15 out of 24 important ecosystem services are assessed as in decline, with livestock identified as a culprit.



Remedies


The report, which was produced with the support of the multi-institutional Livestock, Environment and Development (LEAD) Initiative, proposes explicitly to consider these environmental costs and suggests a number of ways of remedying the situation, including:



Land degradation:


controlling access and removing obstacles to mobility on common pastures. Use of soil conservation methods and silvopastoralism, together with controlled livestock exclusion from sensitive areas; payment schemes for environmental services in livestock-based land use to help reduce and reverse land degradation.



Atmosphere and climate:


increasing the efficiency of livestock production and feed crop agriculture. Improving animals' diets to reduce enteric fermentation and consequent methane emissions, and setting up biogas plant initiatives to recycle manure.



Water:


improving the efficiency of irrigation systems. Introducing full-cost pricing for water together with taxes to discourage large-scale livestock concentration close to cities.

These and related questions are the focus of discussions between FAO and its partners meeting to chart the way forward for livestock production at global consultations in Bangkok this week. These discussions also include the substantial public health risks related to the rapid livestock sector growth as, increasingly, animal diseases also affect humans; rapid livestock sector growth can also lead to the exclusion of smallholders from growing markets.



Implications for biofuels


In Chapter 3 - Livestock's role in climate change and air pollution [*.pdf], the report looks at the importance of creating biogas facilities to recycle manure for energy, to reduce CO2 and methane emissions from cattle. Major gains are to be made in humid tropical climates, where manure releases much more methane than in cooler climates.
The section 'Mitigating CH4 emissions through improved manure management and biogas' reads as follows:

Methane emissions from anaerobic manure management can be readily reduced with existing technologies.

Biogas is produced by controlled anaerobic digestion - the bacterial fermentation of organic material under controlled conditions in a closed vessel. Biogas is typically made up of 65 percent methane and 35 percent carbon dioxide. This gas can be burned directly for heating or light, or in modified gas boilers to run internal combustion engines or generators.

It is assumed that biogas can achieve a 50% reduction in emissions in cool climates for manures which would otherwise be stored as liquid slurry (and hence have relatively high methane emissions). For warmer climates, where methane emissions from liquid slurry manure storage systems are estimated to be over three times higher, a reduction potential of 75 percent is possible.

Various systems exist to exploit this huge potential, such as covered lagoons, pits, tanks and other liquid storage structures. These would be suitable for large and small-scale biogas systems, with a wide range of technological options and different degrees of sophistication. Additionally, covered lagoons and biogas systems produce a slurry that can be applied to rice fields instead of untreated dung, leading to reduced methane emissions. These systems are common practise in much of Asia, particularly in China. In Vietnam, Thailand and the Philippines, biogas is also widely used.

A new opportunity in a hot climate is the use of biogas to fuel modern cooling systems [e.g. EVAP system] and thereby achieve substantial savings on energy costs.

The report then lists a range of other benefits of using biogas, such as odor and pathogen control.

Using the latest technologies and co-fermentation of dedicated energy crops, biogas is already becoming competitive with natural gas, and the livestock industry offers a large untapped potential. Advances in technology have now made it possible to purify biogas to natural gas standards. Large livestock producers may integrate their production with biogas facilities, using manure as a substrate in combination with dedicated energy crops, and feed biogas into the natural gas grid. The green gas can even be used as a transport fuel, and several countries (especially in Northern and Central Europe) are already using it in their fleets.


Even though the study does not make explicit reference to it, another important remedy will contribute to changes in the global potential for the production of biofuels. In their study on the global potential of biofuels, the IEA Bioenergy Task 40 group, used a model in which livestock production efficiencies play an important role. The study uses four scenarios that determine the final bioenergy potential in different regions by the year 2050:

The consumption of animal products is identified as a major land use factor because the consumption of meat is expected to increase rapidly and the production of animal products is more land intensive per kcal produced than crop production. The production efficiencies of animal products measured in land areas is influenced by the feed conversion efficiency (efficiency with which feed is converted into animal product) and the efficiency of feed production. The demand for feed per kg animal product ranges between 3 to more than 100 kg dry weight biomass input per kg meat, dependant on the quality of the biomass inputs, type of animal(product) and the management system (e.g. use of specialised breeds, industrialised production systems vs. pastoral production systems). In general, more efficient production systems use more concentrated feeds and less grazing and scavenging biomass.

Increased efficiency in livestock production opens up a vast additional potential for the production of biofuels. Instead of allowing cattle to graze on pastures - often an unsustainable practise and leading to increased GHG emissions - concentrating the animals in more efficiently managed facilities, frees more land for biofuels. Moreover, this allows a more efficient production of fodder crops, once more reducing land dedicated to livestock production, and adding to the land available for biofuel production.

More information:

Edward M.W. Smeets, André P.C. Faaij, Iris M. Lewandowski and Wim C. Turkenburg (2006) A bottom-up assessment and review of global bio-energy potentials to 2050. Progress in Energy and Combustion Science (In Press, Corrected Proof, Available online 29 September 2006).

H. Steinfeld, P. Gerber, T. Wassenaar, V. Castel, M. Rosales, C. de Haan, Livestock's long shadow - Environmental issues and options [*.pdf, or separate chapters], LEAD, 2006.

FAO, Agriculture 21 magazine: Livestock impacts on the environment - November 2006.


Article continues