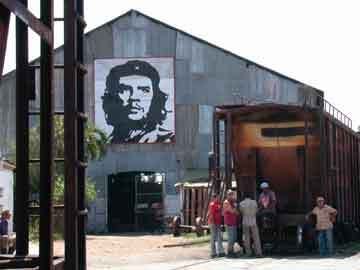 In 1927, Fidel Alejandro Castro Ruz was born on a sugar plantation in Birán, near Mayarí, in the modern-day province of Holguín. Like many in pre-war Cuba, Castro's father had become relatively wealthy by producing raw sugar, a five-century old industry on the island. Young Fidel grew up in the idyllic tranquility of a luxurious plantation estate. Three decades later, Castro the revolutionary rolled victoriously into Havana and ousted the Batista regime. No doubt, the communists celebrated their victory in Havana over a glass of Cuba Libre...
In February 1960, a year after taking power, Cuba signed an agreement to buy oil from the USSR. When the US-owned refineries in Cuba refused to process the oil, they were expropriated, and the United States broke off diplomatic relations with the Castro government soon afterward, a situation that remains until today. To the concern of the Eisenhower administration, Cuba began to establish ever closer ties with the Soviet Union. A variety of pacts were signed between Castro and Premier Nikita Khrushchev, allowing Cuba to receive large amounts of economic and military aid from them.
In June 1960, Eisenhower touched Cuba's pride: he reduced the island's sugar import quota by 7,000,000 tons, to the fury of Castro and his informal minister of economic affairs, Che Guevara. In response, Cuba nationalized some $850 million worth of US property and businesses. The revolutionary government grabbed control of the nation by nationalizing industry, expropriating property, collectivizing agriculture, and enacting policies which would benefit the population.
Throughout the following decades, Cuba's economic dependence on the USSR deepened. Industrial plans had failed to make the nation more self-reliant. In the end, the tropical communist island state had not much to offer in return for Soviet aid... except for raw sugar. With the collapse of the Soviet Union in 1991, Cuba's sugar cane industry went into steep decline, and so did its access to cheap Russian oil. Cuba once was the world's largest sugar exporter but the highly developed sector has fallen upon hard times as a result of mismanagement. Since 2003 it has dismantled 71 out of its 156 sugar factories. A nation that once exported 10 million tons of sugar per year is projecting that only 1.5 million tons will be produced in 2006, of which a meager 1 million tons will be exported.
Today, the man who was born on a sugar cane plantation nearly eight decades ago, is ailing himself. But surprisingly, Cuba's sugar industry will soon be revived as the island state transforms itself into a major ethanol producer:
ethanol :: biomass :: bioenergy :: biofuels :: energy :: sustainability :: sugar cane :: Cuba ::


The Castro regime has long been aware of the decreasing role to be played by fossil fuels and the importance of cutting greenhouse gas emissions. Consequently, Havana has turned its attention to developing alternative energy sources by expanding investment opportunities for foreigners in the island's nascent ethanol industry. After being marginalized in worldwide capitalist markets for the past half century, Cuba has become more conscious of environmental sustainability of energy sources. As a result, the government is now starting to promote alternative energy resources, such as sugar ethanol – an alcohol-based substance made from fermenting and distilling sugarcane.

With a sugar industry that is more than five centuries old, Cuba can offer investment opportunities in its once highly developed sector, which has fallen upon hard times as a result of mismanagement. Cuba was once the world's largest raw sugar exporter, but since 2003 it has dismantled 71 out of its 156 sugar factories. A nation that once exported 10 million tons of sugar per year is projecting that only 1.5 million tons will be produced in 2006, of which a meager 1 million tons will be exported. Despite the recent dramatic down-scaling of the Cuban sugar industry, the Jamaican Gleaner reported that high sugar prices in the world market could lead to a revenues bonanza for Cuba. Not surprisingly, this has led to the government's decision to bolster the industry. Luis Galvez of the Cuban Research Institute for Sugar Cane Derivatives says Cuba has 17 distilleries with the combined potential of producing up to 180 million liters of ethanol annually.

Sugar still remains one of Cuba's primary exports amongst other growing industries such as medical supplies. Given the relative strengths that Cuba's sugar industry already possesses, ethanol remains perhaps the most logical solution to the government's search for energy alternatives. Use of the product as an energy source is increasing around the world, since it reduces the per gallon cost of gasoline in addition to the consumption level of fossil fuels. The growing market for ethanol emerged in the 1990s with the Brazilian initiative to manufacture more than five million ethanol-compatible automobiles. Other nations, such as Canada, the U.S., China, Australia, Colombia, Peru and Thailand, are mixing gas with ten percent ethanol to fuel. Meanwhile, Paraguay, India, Sweden, South Africa and Japan have mixed gasoline with lesser percentages of alcohol. Considering unstable oil prices and pressure from environmental groups to curb greenhouse emissions, ethanol production will almost certainly emerge as a prosperous industry, putting Cuba in a front-seat position to reap huge profits in the future. This is mainly due to the fact that the cost of production for sugar-based ethanol in Cuba is less than what it will be for the U.S., whose ethanol industry will almost entirely be dependent on more expensive corn ethanol.

At present, Cuba is beginning to increase its investment in the ethanol industry and Havana may finally see some significant returns after spending over $1 billion on oil and gas production efforts since 1991. While other developing countries are beginning to tap into Cuban energy resources to satisfy their own economies, Cuba is more and more venturing out into the capitalist-dominated, fast-growing alternative energy fields to develop new possibilities for its perennially straightened economy.




More information:


Council on Hemispheric Affairs: Cuban Oil and Ethanol Could Prosper in Havana's Hunt for Energy Supplies - November 17th, 2006


Article continues