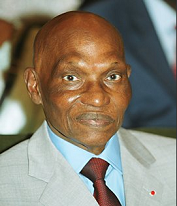 Senegalese President Abdoulaye Wade has warned oil firms operating in Africa that they have to share some of the huge profits they make in order to fight poverty on the continent, or else they might face expulsion. Wade's words come a day after oil giant
Shell said Africa holds the key to meeting the world's energy needs
. Wade also called for strategic infrastructure works on the continent to be developed and lauded China's approach to building economic ties with African states.
Oil companies operating in Africa must plough part of their oil profits into fighting poverty there or risk being expelled from the continent by unrest and turmoil fuelled by inequality, Senegal's president said. Violent situations like the one in the Niger Delta, where oil is pumped up in huge quantities, but where local people live in dire poverty, might spread to other regions in Africa if oil companies don't change their approach to exploiting the resource.
Furthermore, Wade insisted that it was "indecent, immoral" that oil majors should be raking in multi-billion dollar profits from higher oil prices while poor, oil-importing African states saw their own energy bills increase by tens of millions of dollars. Developing country economies are energy intensive and very sensitive to rising fossil fuel prices.
The 'Wade Formula'
The Senegalese leader told a recent news conference he was proposing a formula -- the "Wade Formula" -- to distribute oil profits more equitably between oil companies, African oil-producing countries and non-oil producing states on the world's poorest continent. Earlier, Wade surprised many by announcing the creation of a 'Green OPEC', aimed at promoting biofuels and bioenergy in non-oil producing African countries. One of the ideas behind the project is to create a mechanism through which African oil producing countries invest in biofuels in non-oil producing states on the continent (
earlier post
).
Talking about the social sustainability of oil production as being the key to energy security, Wade thinks "we can create a system where everyone wins". Facing an energy crunch in oil-importing Senegal where summer power cuts have badly hit economic activity and home consumers, the President presented his plan last month in the United States to executives of Chevron and Exxon Mobil, which have extensive operations in sub-Saharan Africa.
He said he warned them about the dangers of ignoring poverty in Africa, while reaping huge profits from its oil. "I said to the oilmen, you're free to carry on like that if you want. But in the long term, you'll be expelled from Africa," Wade said.
The Senegalese president said the societies of some African oil producers were already showing signs of violent rejection of energy companies which failed to sufficiently share the profits of oil. "It's started, bit by bit it will spread," he added:
biofuels :: energy :: sustainability :: energy security :: oil :: poverty :: social justice :: social sustainability :: Africa ::

He gave no examples, but communities in Nigeria's oil-rich Niger delta have stepped up attacks and kidnappings targeting foreign oil firms and their staff, as part of a campaign to try to gain more benefits from oil production.

Wade said the U.S. oil executives had accepted his argument and were willing to see how more could be done to fight poverty in Africa, using its oil.



Strategic infrastructures


He said the continent also needed massive investments in big strategic infrastructure projects, such as a plan for a trans-continental railway linking Johannesburg in South Africa to Dakar in Senegal on Africa's northwest coast.

Other similar projects contemplated included a road and rail link stretching from Dakar in the west to Djibouti in the eastern Horn or Africa.

"The world has the means to do it, our partners have the means to do it," Wade said, saying the United States had completed such trans-continental rail projects across its own huge territory in the 19th century.

Recently, the European Union, the largest donor to Africa, launched a €5 billion fund for infrastructure development in Africa, recognizing that rail, road, waterways, ports, harbors and energy infrastructures are key to help the continent lifting itself out of poverty (earlier post).



Lauding China's approach to mutual development


Wade also urged governments in Africa not to view the growing political and economic competition for the continent's trade and resources between China and the West as a threat, but as an opportunity to reap material benefits for their countries.

He rejected comparisons with the Cold War battle over Africa in past decades between United States and the former Soviet Union, which spawned several proxy wars on the continent.

"Nobody's playing that game anymore," he said, adding that commercial competition in Africa between the West and China was positive. "It's up to Africa to manage that," Wade said.

He praised what he called China's global, multi-faceted approach to trade and cooperation which he said was based on non-interference in domestic affairs and mutual benefit.

Asked about criticism that China turned a blind eye to bad government, corruption and human rights in its growing relations with Africa, Wade said he opposed human rights violations.

But he added: "That polemic is one thing, and our economic relation with China is another".



More information:


Daily Nation (subscription), (Kenya): Oil firms told to fight poverty - Nov 15, 2006
Reuters: Senegal's Wade wants fairer oil share-out in Africa - Nov 14, 2006
Business Report: Fund Africa's poor or face expulsion, oil firms told - South Africa - Nov 14, 2006


Article continues