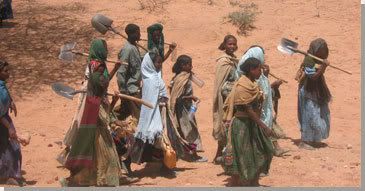 A major symposium to be held on november 13 in Indianapolis will focus on
"The African Green Revolution"
. Agronomists, social scientists and health researchers convene to take the United Nations Secretary General's call for a "uniquely African Green Revolution for the 21st Century" as the focus of their research and to report on progress made. The original Green Revolution of the 1960-80's essentially bypassed sub-Saharan Africa. Unlike this green revolution, which emphasized improved crop germplasm in an environment with good soils and much irrigation, the African green revolution is envisioned to be far more holistic, integrating five main components: agriculture, nutrition, markets, environment, and policies.
These components form the core of the UN's
Millenium Villages Project
. The Millennium Villages seek to end extreme poverty by working with the poorest of the poor, village by village throughout Africa, in partnership with governments and other committed stakeholders, providing affordable and science-based solutions to help people lift themselves out of extreme poverty.
Earlier, we referred to several studies showing that an integrated approach to rural development is both a precondition for and a result of the creation of a viable bioenergy and biofuels industry in Africa. Separate studies about such basic issues like fertilizer use, small investments in improved seed use or enhanced market access show that in theory production, yields and incomes in Africa can easily be increased with truly minor investments. Africa has tremendous agricultural potential, but a combination of internal and external factors, ranging from disease, war, trade barriers, or lack of education and infrastructures, has made it difficult to exploit this potential. Many scientists think that tackling these factors in a systematic and integrated way will result in a true Green Revolution that will change the black continent and the world.
12
Millennium Villages
established in Africa already demonstrate how effective such an integrated approach to rural development can be. For example, after one year, the people in one village have eliminated hunger by
tripling
their grain production, increased their health by building a clinic and sleeping under treated bed nets, and improved their soil by planting 5.5 million trees and shrubs. This was achieved with minimal investment. The United Nations Millennium Project estimates that targeted investment of the equivalent of €80/US$110 per capita, per year for the next 10 years will be needed to achieve all of the Millennium Development Goals in Africa:
bioenergy :: biofuels :: energy :: sustainability :: fertilizer :: Millenium Development Goals :: Millenium Villages :: rural development :: Africa ::


Dr. Pedro Sanchez, Director of Tropical Agriculture and Senior Research scholar at the Earth Institute of Columbia University, and Co-chair of the Hunger Task Force of the United Nations' Millennium Project, is one of several speakers participating in the symposium. "The African Green Revolution" event is part of the Annual Meetings of the American Society of Agronomy-Crop Science Society of America-Soil Science Society of America in Indianapolis. Dr. Sanchez will be joined by six other speakers, who will report on the progress and strategies of the U.N.'s Millennium Development Project.

Other presentations during the symposium include, "Solving Africa's Fertilizer Crisis: The Africa Fertilizer Summit," presented by Akin Adesina, Rockefeller Foundation; and "Balancing Agriculture, Environment, and Health Sciences in the Millennium Villages," presented by Cheryl Palm, Earth Institute at Columbia University.

Article continues