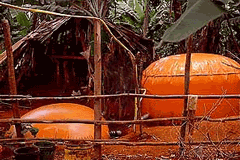 Most biofuel systems can be implemented on a vast scale in a centralised setting to yield scale-advantages. In such a setting, feedstocks can be brought in from across the planet, via a long logistical chain and still contribute to reducing CO2 emissions (see the IEA Bioenergy Task 40
studies
on GHG emissions and long transport chains of biomass feedstocks). But they can also be scaled down and figure in a decentralised energy system in which case they rely on locally produced biomass. Biogas is no different.
We have been following the green gas's tracks and saw how it is becoming an important element in large-scale energy systems. In Europe, biogas is more and more seen as a viable transport fuel (in fact, of more than 70 different transport fuels and fuel paths, 'Compressed Biogas',
CBG, is the cleanest
). A German government energy advisor even thinks the green gas can replace all of Germany's natural gas imports in the long term (
earlier post
). European researchers are developing
dedicated biogas crops
that
yield more energy per hectare
than any liquid biofuel. Some countries in the South are planning to
mix biogas into the natural gas grid
.
But the elegance of much smaller biogas systems can hardly be ignored, especially when they are introduced in the developing world. They utilize household waste and generate a clean energy source that can substitute for fuel-wood. This way, they take away some of the pressures on local forests. The gas also tackles the important issue of indoor smoke pollution and sooth particles, which form a real
killer in the kitchen
. Finally, traditional wood stoves contribute considerably to climate change (
earlier post
), so replacing them by biogas systems at the household level benefits the fight against global warming.
We want to highlight two interesting developments in small-scale biogas technology, one that centers around lowering the cost of a biogas plant, and one that increases its efficiency. Cooperating with African engineers, a company called
Superflex
has succeeded in constructing a simple, portable biogas unit that can produce sufficient gas for the cooking and lighting needs of an African family.
The system has been adapted to meet the efficiency and style demands of a modern African consumer. It is intended to match the needs and economic resources that we believe exist in small-scale economies. The orange biogas plant produces biogas from organic materials, such as human and animal stools. For a modest sum, an African family will be able to buy such a biogas system and achieve self-sufficiency in energy. The plant produces approx. 4 cubic metres of gas per day from the dung from 2-3 cattle. This is enough for a family of 8-10 members for cooking purposes and to run one gas lamp in the evening.



The plants are likely to reach a production price of around 190-250 US$ since all materials involved are relatively cheap. A copy of the system in Cambodia made from local materials cost even less, around US$50, which might be reasonable for an African family living on less than a dollar a day.
Another development comes from West-Bengal, India, where a US sponsored research program has resulted in an
efficient biogas powered micro-turbine system
that was scaled down to meet the energy requirements of a typical village:
biomass :: bioenergy :: biofuels :: energy :: sustainability :: developing world :: micro-turbine :: waste :: biogas ::


A demonstration plant was built in the village of Purulia. The micro-turbine project, touted as the first of its kind in India, will generate 30 kilowatt of power and cater to about 100 families and a local dairy farm. The project was initiated in September 2003 when the US-Asia Environmental Partnership forum provided funds for a pre-feasibility study on the potential of micro-turbine technology based on biomass/biogas applications.

The entire project was coordinated by the West Bengal Renewable Energy Development Agency headed by director, S P Gon Chowdhury.

Micro-turbine technology is an efficient, compact, ultra-low emission way to produce electricity and heat for combined application. The US-Asia Environmental Partnership pursued the pilot project involving the micro-turbine technology from the US. It was expected that it could answer India's quest for decentralised energy generation and make power available to the 94,000 remote non-electrified villages in the country. Micro-turbines are small power generating systems that produce between 25-500 kilowatt of power.

Article continues