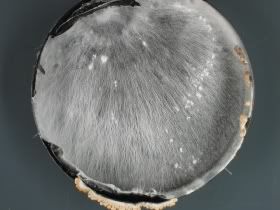 The rapidly growing 'bioeconomy' aims to replace petroleum-based products by biodegradable and renewable alternatives. Research efforts and applications result in products with a large market potential such as
100% petroleum free tires
or safe and healthy
natural rubber flooring for green hospitals
, to
ultra-high strength bioplastics
or specialty chemicals for use in niche markets, many of which will be based on crops from the tropics (such as
Vernonia
). Advances in green chemistry and biorefining will eventually lead to an integrated complex similar to that of the petro-chemical industry: biomass streams enter as raw materials, and liquid and gaseous fuels, bioenergy, and hundreds of different intermediates and finished products leave the biorefinery.
German biotech company BRAIN AG and Degussa AG, a world leading specialty chemicals multinational, successfully completed a
collaborative research and development project
in this field. Aim of the cooperation is the supply of novel microorganisms for the production of novel bioplastics based on sugar beets, sugar cane and other renewable primary products. Following this strategy Degussa aspires to achieve an independency of petrochemical raw materials. In addition, environmentally compatible production processes will be developed. The project is financially supported by the German Federal Ministry for Education and Research (BMBF) in its program for sustainable bioproduction (
"Nachhaltige Bioproduktion"
).
Water soluble polymeric thickeners are of high economical value and widespread in industries like the food- and cosmetics industry. Other technical applications include uses as drilling adjuvants and flocculants in water treatment. The annual world demand for these products is in the order of several 100.000 metric tons per year. Currently often polyacrylates and their derivatives are used. Being comparatively cheap these materials also show good application properties. However, they fall short of being environmentally benign as they resist biodegradation. Furthermore, polyacrylates are made from diminishing and expensive petrochemical raw materials:
biomass :: bioenergy :: biofuels :: energy :: sustainability :: bioeconomy :: green chemistry :: bioplastics :: biopolymers ::

This is the motive to accelerate the search for biological polymers in alternative sources as in technical applications these polymers still are grossly underrepresented. The goal of the project under leadership of Degussa and under involvement of BRAIN was to establish a competitive biotechnological route for the production of microbial biopolymers as water soluble thickeners.

Within the project BRAIN AG screened its comprehensive proprietary BioArchives and additionally performed extensive multi-focused screening activities in diverse habitats (e.g. fruits, diverse foods, marine- and sugar rich environmental habitats) to come up with numerous biopolymer producing microorganisms. These were evaluated and then transferred to Degussa for additional product analysis and viscosity evaluation. The microorganisms provided by BRAIN AG displayed a remarkably high frequency of hits despite a challenging performance profile set up by Degussa. The EPS producing microorganisms are currently processed at a technical scale and evaluated for market suitability and production.

Another focus of the cooperation between BRAIN and Degussa was the optimisation of a producer strain for the synthesis of scleroglucan [picture: fungus

Sclerotium rolfsii

producing the biopolymer scleroglucan], another innovative biopolymer with manifold technical applications.

"Through identification and implementation of novel polysaccharides we want to improve the economics of existing industrial production processes and at the same time expand our product portfolio", says Dr. Volker Sieber, Head of the BMBF-project at the Project House ProFerm at Degussa. "The intensive cooperation in this research and development program provides access to novel technologies and speeds up the transition from conceptual status to production process", explains Dr. Andreas Karau, Head of Project House ProFerm. "The identification of numerous novel biopolymer producing microorganisms through rational bioprospecting is another proof for the increasing importance of industrial biotechnology for innovative developments", says Dr. Jürgen Eck, CSO at BRAIN AG. He adds "We are pleased that in the concluded cooperation we could provide Degussa with many efficient producer strains for technical processes."

Besides Degussa and BRAIN an interdisciplinary team uniting biological and chemical expertise is involved in the project. Included were the academic partners Prof. Dr. Alfred Puehler from the University of Bielefeld, Prof. Dr. Ulf Stahl from TU Berlin as well as the SME´s INSILICO biotechnology in Stuttgart and DASGIP in Juelich.

Article continues