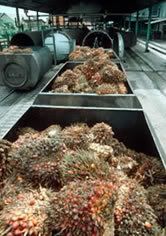 Despite rising criticism by Euro-MP's and environmentalists on the environmental damages brought about by oil palm plantations (
earlier post
), there are no international rules or barriers on producing and trading the green gold. Palm oil is the most competitive biodiesel feedstock, and survives oil prices as low as US$50/55. This is why palm oil futures in Malaysia, the world's biggest supplier of the commodity, are set to explode,
according
to Thomas Mielke, editor-in-chief of Oil World.
Palm oil may rise to as high as 2,075 ringgit (€446/US$565) a tonne between April and June next year on the Malaysian Derivatives Exchange, Hamburg-based economist Mielke said. The contract averaged 1,568 ringgit (€337/US$429) last quarter.
Rising demand in Europe for regular diesel blended with vegetable oil amid high crude oil prices may drive palm oil's gains. "The market for palm oil will explode" should the pace of growth in biodiesel demand be maintained, Mielke said at a renewable energy conference in Beijing. Demand for vegetable oil, including palm oil, may outstrip supply by as much as 5 million tonne, he said. Palm oil futures for January 2007 delivery, the most actively traded contract on the
Malaysia Derivatives Exchange
, rose 27 ringgits, or 1.7%, to close at 1,650 ringgit, the highest one-day rise since August 9. New demand is coming from rising superpowers like China and India, who are looking for alternatives to petroleum:
biodiesel :: biomass :: bioenergy :: biofuels :: energy :: sustainability :: palm oil :: Malaysia :: Indonesia ::

The futures may climb as high as 1,800 ringgit by September, Dorab E. Mistry, a director at Godrej International Ltd, one of biggest domestic traders of edible oil, said in Mumbai last month. He cited mandatory blending regulations being implemented in most countries in the European Union (EU).

The EU wants every tank of fuel to consist of 5.75% biofuels by 2010. High crude prices and pollution concern are prompting governments to seek alternative fuels such as ethanol made from corn and sugar, and biodiesel from canola and palm oil.

Increased imports of vegetable oils by the EU, China and India have more than offset any rising production from Indonesia, Malaysia and Argentina, the three main exporters. Any production cuts may drive prices to 1,800 ringgit in the short-term, Mielke said.

Economic expansion in China and India, the world's biggest buyers of palm and soybean oils, is increasing consumption of fried foods as incomes rise. India may import 6 mt of cooking oils in the year to October 2007, up 20% from an estimated 5 mt this year, as dry weather cut output of oilseeds such as peanuts and soybean.

Palm oil prices may reach 1,700 ringgit in four to five months on higher demand from the EU and non-traditional buyers such as Egypt. Palm oil stocks in Malaysia may fall to 1.65 mt by October 31 and 1.55 mt by November 30, compared with 1.79 mt on September 30, M Somasekhar, an analyst at TransGraph Consulting in Hyderabad, said by phone.

Still, Indonesian trade minister Mari Elka Pangestu said September 18 that prices, which have gained 15% this year, had peaked and were likely to remain steady. "While we are bullish on palm oil this year and next, a wildcard remains as to how fast biodiesel output will grow," said Steven Zhou, GM of Shanghai Pansun Cereals & Oils Development Ltd. The capacity and timing of Malaysia's plan to expand biodiesel output are still unclear, he said.

The Malaysian government has issued 52 licences to companies to make biofuels. Still, Malaysia's Chin said September 5 that he may revoke some of them as the holders aren't committed to the business.


Article continues