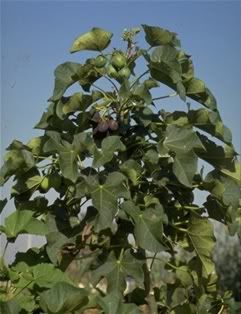 Despite being touted as the wonder crop that could rev up biodiesel economics, energy analysts and even its most ardent proponents agree that there are
lots of questions
surrounding the viability of using
Jatropha curcas
on a large-scale as a biodiesel feedstock.
Some researchers claim jatropha is the most viable feedstock option for biodiesel, for the following reasons:
it produces a non-edible oil
none of its parts can be used as food or fodder
it can be grown in arid regions and doesn't result in land use conflicts that often plague other biodiesel feedstocks
once the crop is established, it keeps yielding seeds for up to 3 decades

A growing number of critics say the effectiveness of the crop has yet to be demonstrated as no large-scale commercial operations have shown results yet, due to jatropha's lengthy crop cycle. They have identified several problems that may limit its viability:
no major breeding programmes exist, and there is a lack of fundamental research into crop improvement
in experiments, average jatropha yields and final oil press yields have proved to result in a rather low amount of oil (between 600 and 900 liters per hectare)
most importantly: jatropha seeds have to be harvested manually; so far, no mechanised harvesting methods exist and it will be difficult to design such a harvester. One laborer can manually harvest some 3 kg of seed per hour in a plantation; at yields of 2500 kg of seed per hectare, it would take up to 833 man-hours to harvest a hectare. This is obviously a serious problem for the viability of jatropha exploitation. Jatropha may be too labor-intensive, requiring 'slave labor' in order to be profitable. (For comparison it takes around 31 times less man-hours to harvest an equal amount of energy from a palm plantation).
other than a non-edible presscake that can not be used as fodder but may act as a feedstock for biogas production, jatropha yields no further biomass that can be used for energy. This implies that external energy is needed to power jatropha dehulling and oil extraction operations. Other tropical energy crops, like sorghum, cassava, sugarcane or palm oil, yield vast amounts of residues that are used to power processing operations, making both the economics and the energy balance very favorable.

India has been leading jatropha cultivation efforts with the government identifying as early as in 2003 the potential of the plant as a biodiesel source. But the government delayed announcing any concrete policy until early this year when a national biodiesel mission was set up with the goal of putting huge swathes of marginal land into jatropha cultivation (on India's jatropha efforts, see our previous posts,
here
,
here
and
here
).
As a result, any large-scale plantations that are already underway are less than a year old. Currently, around 7.5 million jatropha saplings have even been planted along the country's railway tracks. And under the various initiatives by states and federal government, India may have around 3.1 million hectares under jatropha plantation by 2009:
biodiesel :: bioenergy :: biofuels :: energy :: sustainability :: jatropha :: harvesting :: labor :: mechanisation :: India ::

But experts say that though there are a myriad of projects underway in many countries, particularly in India, it will be quite a while until these projects can produce a clearer picture of how best to exploit the plant's potential.

"There has not been enough work done to see the produce life cycle, the cost and what the yields are," said Peter Cockcroft, Visiting Research Fellow at the Institute for Southeast Asian Studies.

Researchers from the Tata Energy and Resources Institute that is spearheading jatropha development in India concur. TERI research shows that once the jatropha saplings have been planted, it takes about two to three years before the plant starts seeding, and the seed yield reaches the maximum potential only after five to six years.

"Obviously even if the plantations were put in today, it will take five to six years for the produce volume to be known.

Whatever figures are coming in are from research and it can't be conclusive," K.S. Sethi, Fellow at TERI said. Several large scale projects are underway. Among these, TERI is advising BP PLC (BP), which is investing $9.42 million in a project in India focussing on jatropha cultivation.



Jatropha Output Dependent Upon Agro-techniques



What could also affect jatropha yield is the fact that the crop is seasonal and much of jatropha's success depends on agricultural techniques employed.

"You can go in for a high input model where irrigation infrastructure exists such as in the Western Godavari district of Andhra Pradesh in Southern India, or go for one in Rajasthan where the plantations will largely depend on rainfall for irrigation," Sethi said.

"Under the irrigated conditions, yield can be significantly improved as it fruits and seeds two times," compared with once-a-year in rain-fed conditions, Sethi added.

And at least two or three generations of crops will have to be grown before the best seed variety can be identified or a genetically-modified crop developed. "Once we are able to zero-in on the (plantation) models to be used, then scaling up the models will be easy," said Sethi.


Article continues